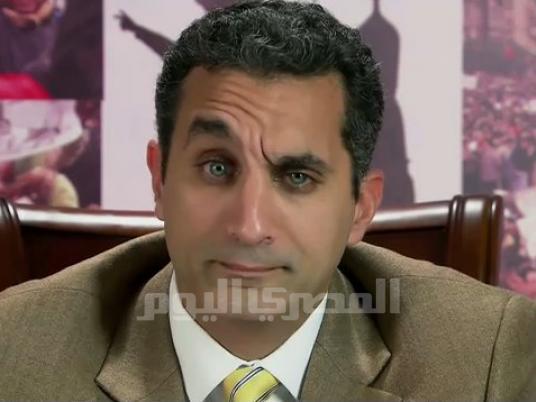 Egyptian popular satirist Bassem Youssef said late on Monday that Prosecutor General Talaat Abdallah is currently investigating new complaints accusing him of "spreading rumors and disturbing the peace."
Youssef wrote on his Twitter account that "a new investigation against me is to be started because of the last episode. Accusations include spreading rumors and disturbing the "peace""
Youssef, who is out on bail on charges of President Mohamed Morsy and Islam, added that "it seems they want to drain us physically, emotionally and financially."
The comedian, who regularly skewers the country's ruling Islamists on his wildly popular show, was released on US$2,200 bail on Sunday after an interrogation that lasted nearly five hours.
He was questioned on accusations of offending Islam through "making fun of the prayer ritual" and of insulting Morsy by "making fun of his international standing."
He now joins the ranks of several colleagues in the media who face charges of insulting the president, amid a continuing series of judicial actions many activists believe to be a part of a regime crackdown on critics and political opponents.
The soaring number of legal complaints against journalists has cast doubt on Morsy's commitment to freedom of expression — a key demand of the popular uprising that toppled Hosni Mubarak in 2011.
The United States on Monday expressed concern at the proceedings against Youssef, saying it was evidence of a "disturbing trend" of mounting restrictions on freedom of expression.
"We are concerned that the public prosecutor appears to have questioned and then released on bail Bassem Youssef on charges of insulting Islam and President Morsy," US State Department spokeswoman Victoria Nuland said in Washington.
Under Egypt's legal system, complaints are filed with the Public Prosecution, who decides whether there is enough evidence to refer the case to trial. Suspects can be detained during this stage of investigation.
Rights lawyers say there have been four times as many lawsuits for insulting the president under Morsy than during the entire 30 years that Mubarak ruled.
Underscoring such claims, Abdallah also summoned a journalist and an activist for journalists' rights for interrogations Tuesday.
Abdallah ordered on Tuesday ONtv host and journalist Gaber al-Karmouty interrogated over a complaint accusing him of disturbing public peace, disseminating false news and insulting the judiciary.
Also targeted by the complaint is Shaima Abul Kheir, a representative for the New York-based Committee to Protect Journalists, who made a phone-in with Karmouty during the episode.
"I have been referred to the State Security Prosecution along with Gaber al-Karmouty over charges of disturbing public security and disseminating false reports," Abul Kheir said on her Twitter account.
In her call with Karmouty, Abul Kheir denounced media-circulated rumors that Muslim Brotherhood leader and lawyer Sobhi Saleh had volunteered to represent Youssef on Sunday during interrogations by prosecutors.
Abu Kheir added during the call that the regime is sponsoring a campaign against media figures, alleging that some journalists had been threatened with kidnapping and death.