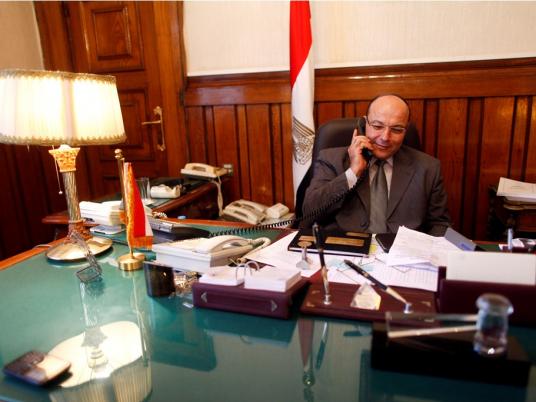 Prosecutor General Talaat Abdallah will not resign unless a final verdict ordering his dismissal is issued by the judiciary, public prosecution spokesperson Mostafa Doweidar told the Turkish news agency Anadolu on Monday.
It isn't enough for the Supreme Judicial Council to ask Abdallah to step down, Doweidar said. "For there are thousands of judges and prosecutors who want him to stay," he claimed. "Only the judiciary has the final say here."
In a meeting with young judges and public prosecutors on Monday, the Supreme Judicial Council said it would implement the ruling invalidating Abdallah's appointment by President Mohamed Morsy last November as soon as it receives the writ.
The Legal Committee for the Defense of Judges and a delegation of young judges and prosecutors had called for the meeting with the SJC, without Abdallah present, to demand the enforcement of the top prosecutor's dismissal.
The Administrative Judicial Court had invalidated Morsy's appointment of Abdallah, but their decision can be appealed before the Supreme Administrative Court.
Morsy's 22 November Constitutional Declaration that removed former, Mubarak-era Prosecutor General Abdel Meguid Mahmoud and replaced him with Abdallah also immunized the president's decrees from judicial review. Morsy backtracked on some parts of the delcaration later in response to waves of violent protests in front of the Ettehadiya Presidential Palace, but said his decisions were still retroactively binding.
The SJC recently asked Abdallah to resign in order to resolve the discord between the judiciary and the Morsy administration.
Meguid Mahmoud said he is waiting to hear the details of the Cairo Court of Appeals' decision in this case, and how the ruling would be implemented.
Edited translation from Al-Masry Al-Youm