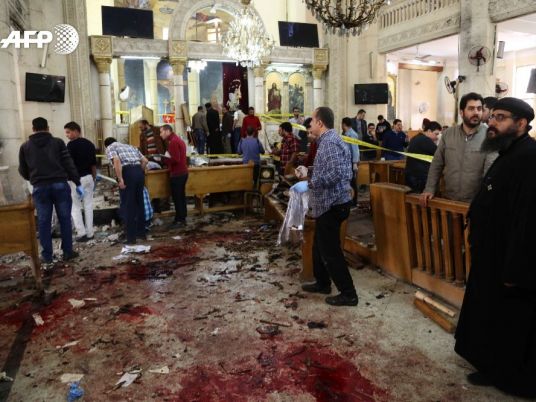 Preliminary investigations conducted by prosecution on the bombing of St Marck church in Alexandria, which occurred on Sunday, showed that the suicide bomber attempted to access the church from a side-gate in order to cause huge losses. However, security personnel denied him access and guided him to the gate allocated for entrance.
The surveillance cameras showed that the electronic gate made an alarm as the suicide bomber attempted to access. It was clear that the suspect was hesitant to go on fearing arrest, which made him blow himself up.
There were 14 policemen among the total number of injured. The rest of the injured were 21 Copts and 16 Muslims. The victims were 11 civilians, including three unidentified bodies and six policemen.
The prosecution ordered keeping the human body parts for the forensic medicine department to identify the unknown victims through their DNA, including the perpetrator of the blast.
Public Prosecutor Nabil Sadeq ordered expediting the interrogations from all authorities in question and questioning the injured.
So far, prosecution heard the testimonies of 23 injured who are being treated at hospitals, while the remaining witnesses continue to be questioned.
Edited translation from Al-Masry Al-Youm