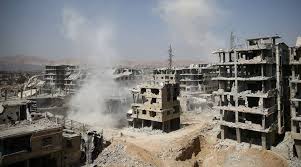 Prosecutor-General Nabil Ahmed Sadek has imprisoned Ibrahim Ismail Mostafa on charges related to terrorism and murder after shooting people at Mar Mina Church and an electric appliances store in Helwan district, south of Cairo, on Friday for 15 days pending investigations.
The Higher State Security Prosecution, supervised by first Attorney-General Khaled Diaa, accused Mostafa of committing crimes of intentional murder, carrying unlicensed firearms ammunitions and bombs to use them in acts of terrorism, aiming to disturb public security and violating national unity and social peace.
The prosecution assigned the National Security Sector to conduct investigations into the Helwan attack, asking the Forensic Evidence Service to inspect the scene of the incident and unpack surveillance cameras in the vicinity of the church and the electric store.
Egypt's Interior Ministry said in a Friday statement that the death toll of the militant attack targeting the church of Mar Mina climbed to nine people.
The shootout led to the death of one non-commissioned police officer and another six citizens, while the militant shot randomly towards a number of civilians' stores, killing another two, according to the statement.