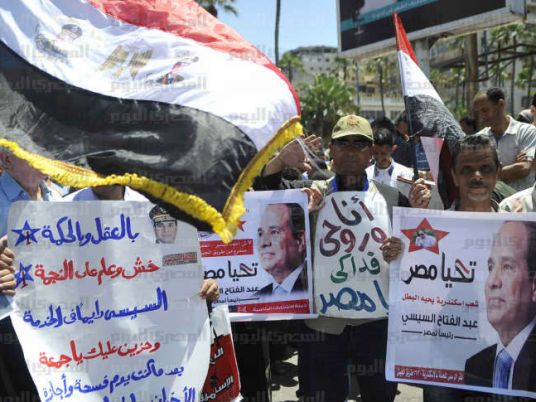 A group of young Egyptians has launched a campaign to collect 40 million signatures from Egyptian citizens on a petition to extend the presidential term of the Egyptian President Abdel Fattah Al-Sisi for four more years — apparently without the need for another election.
The campaign was founded by 40-year-old Yasser Al-Turkey, who heads an NGO, along with several young people who claim to have no affiliation to any political party or pro-government body.
"Four years are not enough for Sisi to complete what he has already started. We need him to continue his his projects in developing infrastructure and the health sector, fighting terrorism, finishing the new administrative capital and combating corruption in the municipalities," Al-Turkey said.
The campaign was launched one year ago in the city of Minya, but it was criticized for proposing a petition on extending Sisi's rule so soon after his election in 2014. So the founders suspended the project for a while, re-launching it a few days ago, with plans to extend it to every governorate. So far, they have collected signatures from 10 cities, including Cairo.
The Egyptian Constitution of 2014 allows the Egyptian president to hold office for two consecutive terms.
"If elections took place and a new president won, he would not continue with Sisi's projects, because he would have his own program and vision," Al-Turkey said.
Al-Turkey has denied accusations that the relaunch of his campaign is a response to a new initiative by the planetary scientist Essam Heggy, who recently lent his support to a group of liberal Egyptian revolutionaries who wish to propose an alternative presidential candidate for 2018. On July 30, Heggy declared through his official Facebook account that the initiative will offer an alternative vision of a modern nation based around civil society and reflecting the experiences of young Egyptians, both inside and outside Egypt.
Al-Turkey says that the timing of his own announcement so soon after that of Heggy is just coincidence, and that his project has been in the works for much longer.
So far, Al-Turkey has refused to say how many signatures the group has collected, saying that it's too early to disclose the data. However, he says he will reveal the numbers in an official press conference at some future date.
"We are distributing print forums to people, and we usually give them some background of our campaign to clarify everything transparently. The feedback from people has varied. There were supporters, opponents and others who said it's better to wait [for the elections] and then decide," Turkey said.
Speaking to Al-Wafd newspaper, Mukhtar Ghobashi, vice-president of the Arab Center for Political and Strategic Studies, criticized the petition project, calling it unconstitutional and illegal.
"This campaign is tendentious and is not benefiting Sisi. Promoting him regardlesss of the popular will is a big mistake," Ghobashi said.
Meanwhile, some social media users have been puzzled by Al-Turkey's motives in pursuing his project, pointing to his previous efforts apparently in support of former president Mohamed Morsi. They shared a news story from 2013 according to which Al-Turkey called for a constitutional referendum to keep Morsi in power, while postponing parliamentary elections, with a view to keeping the country from chaos.