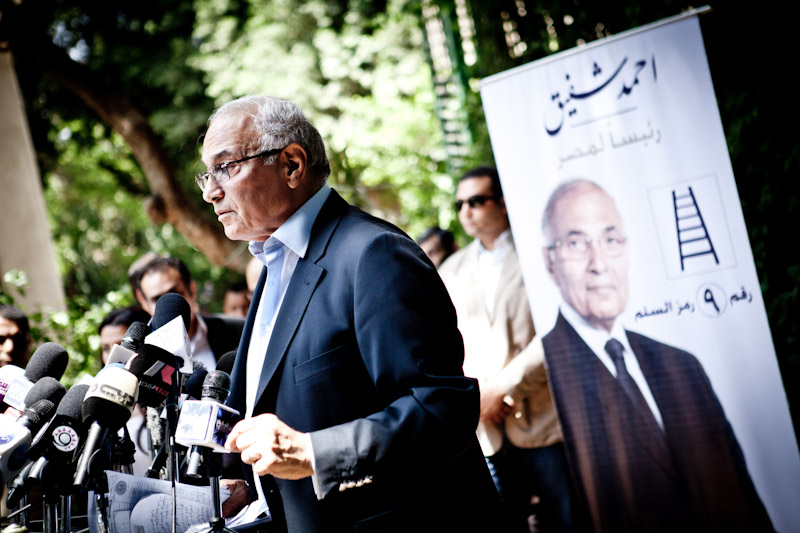 State-owned Al-Gomhurriya newspaper on Tuesday published a full-page advertisement for Ahmed Shafiq's presidential candidacy paid for by an outside group, violating the campaign silence period as stated in the Presidential Elections Law.
The gag order began late Sunday, two days before domestic polls open on Wednesday.
The same newspaper also ran a pro-Shafiq advertisment Monday.
State-owned news agency MENA reported that Tareq Abdel Razeq was arrested in Sharqiya Governorate on Tuesday after attempting to hang up a larger banner supporting Muslim Brotherhood candidate Mohamed Morsy. He was referred to the prosecution for violating the ban.
Shafiq's campaign is not responsible for the Tuesday advertisement, which was paid for by the Silent Majority Movement, an ad hoc group founded in February to oppose continued protests following the 25 January uprising against the ruling military council.
According to the Presidential Elections Law, the electoral silence period bars any form of campaigning by candidates or their supporters during the two days preceding the polls.
Article 21 of the elections law sets the fine for violators between LE20,000 and LE200,000.
The Silent Majority group staged demonstrations two weeks ago in solidarity with the armed forces following clashes near the Defense Ministry that left 12 dead and nearly 600 arrested.
Edited translation from Al-Masry Al-Youm