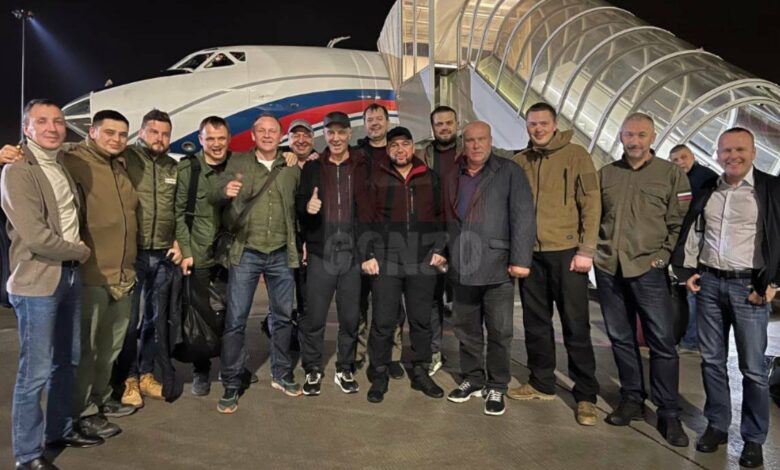 Some of the separatist leaders involved in carrying out sham referendums to secede from Ukraine and join Russia landed in Moscow Thursday, according to a photograph posted by Kirill Stremousov, the Russia-appointed deputy head of the Kherson regional military administration.
The votes – which are illegal under international law – were carried out in the self-declared republics of Donetsk and Luhansk in the east and parts of Kherson and Zaporizhzhia in the south.
"The historic plane with the leaders of the liberated territories landed in Moscow. We will become new subjects of the Russian Federation very soon," the statement read, alongside a photograph of Stremousov with Denis Pushilin, Yevgeniy Balitskiy and Vladimir Saldo, some of the other Russian-backed officials involved in the so-called "referendums."
The votes mirror the playbook used during Russia's annexation of Crimea in 2014, sparking fears they could become a false pretext for the Kremlin to illegally claim more territory in Ukraine and escalate its war effort.
Some context: On Wednesday, with all "votes" counted, Kremlin-backed authorities in the four Russian-occupied areas of Ukraine predictably claimed that residents had overwhelmingly agreed to become part of Russia.
The UK Ministry of Defense has said that "there is a realistic possibility" that Putin will use his address to Russia's parliament on Friday to "formally announce the accession of the occupied regions of Ukraine to the Russian Federation."
Kremlin spokesperson Dmitry Peskov previously indicated that if the regions announced majorities in favor of joining Russia, the ratification process would be fast and they could become part of the Russian Federation "quite soon."
Asked if that would mean any attempt by Ukraine to regain the territories would be regarded as an attack on Russian territory, Peskov said: "Of course."