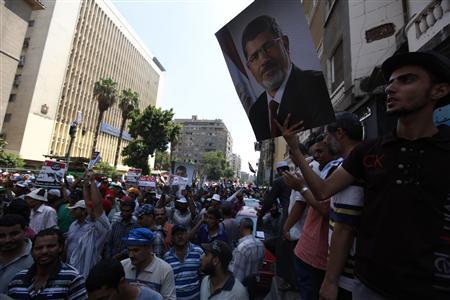 Two Sunday marches staged by supporters of deposed President Mohamed Morsy headed to two foreign embassies in Cairo, urging countries to make a stand against what they see as a military coup against Egypt's elected president.
The marches headed to the German and Indian embassies in the capital's up-scale Zamalek neighbourhood.
Other marches are expected to head to other embassies, including the U.S. embassy in Garden City.
The National Alliance in Support of Legitimacy, leading the wave of pro-Morsy sit-ins and protests, earlier announced five marches would head to embassies Sunday to "disclose the shameful role by their countries facing the military coup."
A female march from Nour mosque in Abbasseyya also headed to the Defence Ministry in protest against killing of three female protesters in Mansoura, Daqahlia, on Friday night.
Pro-Morsy protesters blame security forces and armed thugs for the deaths.
Another women's march will also move from Cairo University to the National Council for Human Rights building to demand greater protection for female demonstrators against the "military coup."