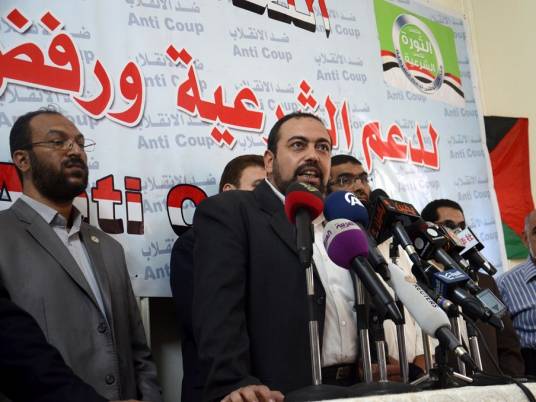 The pro-Mohamed Morsy National Alliance to Support Legitimacy condemned the attack that took place in Beni Suef, south Cairo on Thursday morning.
Earlier on Thursday five policemen were killed and two others were injured in an attack by gunmen on Saft al-Sharqiya checkpoint, in Beni Suef.
In a statement issued by the alliance, it held the head of the Beni Suef Security Directorate responsible for failing to arm and secure his forces, and instead concentrate on cracking down on student protests.
The alliance called on all security agencies and the public prosecutor to quickly bring the perpetrators to justice, "instead of prosecuting honest people."
"All these criminal behaviors reveal weakness and low level of performance of the security forces in maintaining security and stability, and evidence of the erosion of the military coup," said Ashraf Badr Eddin, a member of the supreme body of the Muslim Brotherhood's Freedom and Justice Party.
Badr Eddin accused the current regime of being responsible for "allowing terrorism inside the country."
"All current officials are responsible for committing terrorist crimes," he went on.
He concluded by saying that the Muslim Brotherhood has been peaceful in its thoughts and beliefs since it was formed. There is no evidence against it in any criminal or a terrorist attack. All media allegations and lies claiming it is a terrorist group is not true, but rather an attempt to stigmatize it.
Edited translation from Al-Masry Al-Youm