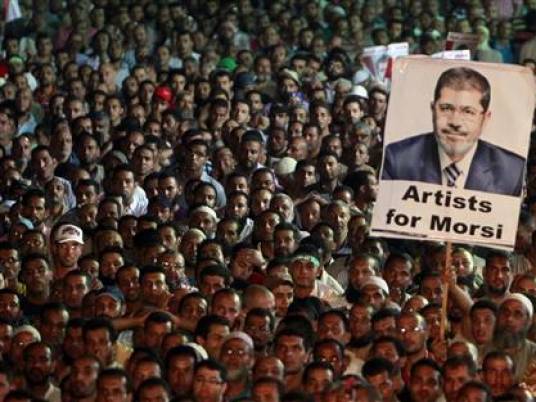 The National Alliance to Support Legitimacy is organizing marches on Monday and Tuesday to call for the return of ousted President Mohamed Morsy to power.
The marches will be staged under the title "Together against the coup and Zionists."
The call for protests comes after reports that Egyptian authorities are planning to disperse pro-Morsy sit-ins starting Monday.
"The alliance calls on Egyptians in all governorates to stage mass marches everywhere and to stage a mass march in the heart of Cairo that sets out from Ramses Square after noon prayers on Monday."
The statement added that the next few days will see more protest activity across Egypt until the goals of the 25 January 2011 revolution goals have been fully achieved.
The statement said that the alliance has not received invitations from any party to discuss any proposals, and added that parties that took part in the military coup or hailed it, as well as those who partook in the grisly massacres at the Republican Guard House and elsewhere, are not welcome for dialogue.
The statement welcomed all efforts to end the crisis, emphasizing that the key to resolving the standoff is to reinstate the ousted president.
The statement said that the alliance is insisting on its demands to reinstate Morsy to power, restore the suspended constitution and the Shura Council, and overturn the military coup.
Traffic in Ramsis Square came to a stop on Monday as thousands of
pro-Morsy protesters marched from Fateh Mosque in the direction of
Rabaa al-Adaweya in protest against calls to dismantle pro-Morsy
sit-ins.
The marches held banners saying "Hang in there, Morsy" and "Sharia is
a red line," as well as other black banners.
The protesters also chanted "Down with the rule of the
military!" and "The Interior Ministry officers are thugs."
Edited translation from Al-Masry Al-Youm