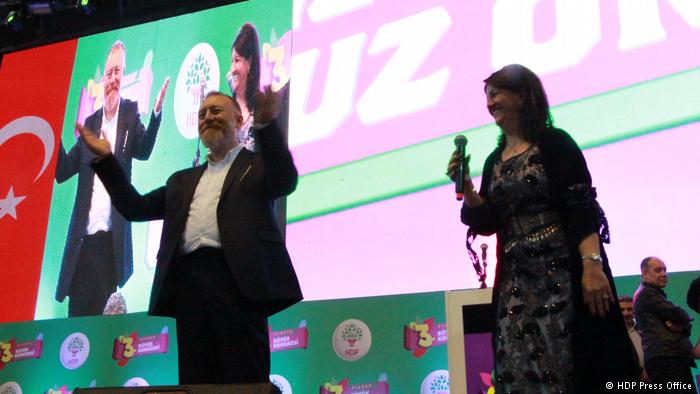 Turkey's pro-Kurdish People's Democratic Party (HDP) on Sunday elected parliamentarians Pervin Buldan and Sezai Temelli as co-chairs to lead the party amid a wave of arrests targeting its leaders, lawmakers and members.
"We will not be a part of accomplice of this dark and lawless period in Turkey's history," Buldan said before being elected party co-leader.
"No matter how much they try to isolate us, no matter how much they try to discourage us by force and oppressive policies, we will rely on the spectacular strength of our rights and legitimacy that shines like the sun."
Crackdown on HDP
The HDP is the second-largest opposition party in the Turkish parliament. In 2015, the party had 59 lawmakers in parliament. However, that number has dwindled since the failed coup in 2016.
Former co-chair Serpil Kemalbay, who has a warrant out for her arrest for "inciting conflict," told members and observers at a party conference that the HDP will "build a new life" for women, workers and Kurds.
Former co-leaders Selahattin Demirtas, dubbed the "Kurdish Obama," and Figen Yuksekdag stepped down from their positions after Turkey arrested them and ten other lawmakers in the wake of the failed coup. Kemalbay was elected in May to replace Yuksekdag, but stepped down on Sunday.
'Deterioration of freedoms'
Turkish authorities on Friday issued an arrest warrant against Kemalbay and 16 other HDP officials for issuing calls for mass protests against Ankara's military offensive in the Kurdish-held area of Afrin in northern Syria, according to state media.
Ankara has accused the HDP of maintaining close ties to the outlawed Kurdistan Workers' Party(PKK), an armed group that has waged a decades-long insurgency against the Turkish state.
European Parliament lawmakers on Thursday slammed Turkey for targeting "legitimate and peaceful opposition" in the wake of the failed coup, warning of the "deterioration of freedoms and fundamental rights and the rule of law in Turkey."
Tens of thousands of soldiers, police officers, judges and teachers have been arrested for suspected involvement in the failed coup in 2016, which the Turkish government has used to expand its powers under emergency provisions.
Several left-leaning European political parties were invited to the party congress, including Germany's The Left Party and Spain's Podemos.