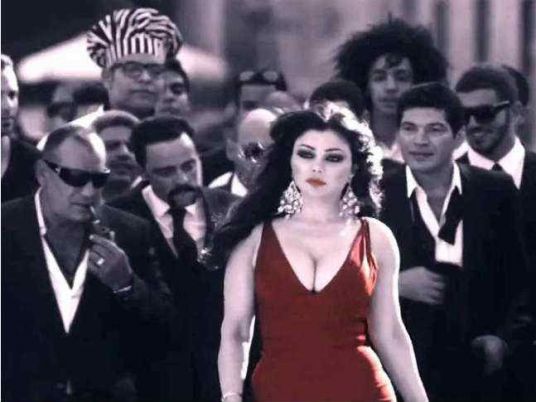 Egypt's Prime Minister Ibrahim Mehleb has decided to ban the recently-premiered movie "Halawet Roh", or "Sweetness of Rouh", from public screening in the first direct intervention from the Cabinet in film industry, citing culturally inappropriate sexualized scenes.
Mehleb's decision came during a meeting on Wednesday with members of the Cinema Industry Chamber, referring the film to the Egyptian Censorship Authority to endorse his decision.
The controversial film starring Lebanese singer Haifa Wahbe was criticized for its display of partial nudity and sexual references.
The National Council of Childhood called for banning the film for a scene where a child called Sayyed is sexually assaulting Haifa which is considered "indecently immoral role."
The Al-Azhar institute, the country's top Islamic body, is the organization which often makes decisions of censoring films or books that violates Islamic religion.
"But the fact such decision comes from the prime minister reflects that the government was absolutely dissatisfied and could not tolerate a movie containing an overrated scenes," said Mona al-Saban, professor at Cinema academy.
Cinema critic Tarek el-Shenawy condemned the Prime Minister decision, pointing out that banning any artistic work is only a specialty of Censorship Authority affiliated to Ministry of Culture.
"Even if the movie is artistically poor quality, if I do not like the movie, I dislike more censorship from a political authority not specialized in art," said Al-Shenawy to Al-Masry Al-Youm.
Ibrahim Issa, an Egyptian anchor said in his TV show that Mehleb's interference in cinema industry is violating freedom of creativity and democracy.
"Banning the movie from the government is an obligatory duty as a guardian of morality in the country, yes more audience will try to see it illegally for its nuidity but at least the production company will lose when the government ban it," said KassemAhamd, an employee at the education ministry.
Mehleb's decision was supported by Mortada Mansour, the potential presidential runner, who ridiculed the film in a TV program as it should be called "sweetness of breasts." "The film is based on breasts of Haifa," Mansour said on Dream TV show.
Critics claimed that Haifa Wahbi's tight red dress and exposed cleavage looks like the 'Martini Gold' ad by Monica Bellucci. She walks in a fashion similar to Monica, wearing oversized glasses while puffing cigarettes followed by dashing men. Yet Haifa declined any adoption and considered it as merely coincidence.
In related news, Egypt, followed by several Gulf States, also banned the Hollywood blockbuster "Noah" last month, starring Russell Crowe from screening as Al-Azhar Institute decided the movie violated Islam by portraying a prophet.
Egypt has censored other movies in the past, including Tom Hank's "The Da Vinci Code" after protests from the Orthodox Coptic Church.
On 10 March, Karem Saber, an Egyptian human rights activist was sentenced to five years in prison over charges of contempt of religion for publishing a book titled "Ayn Allah?" or "Where is Allah?"