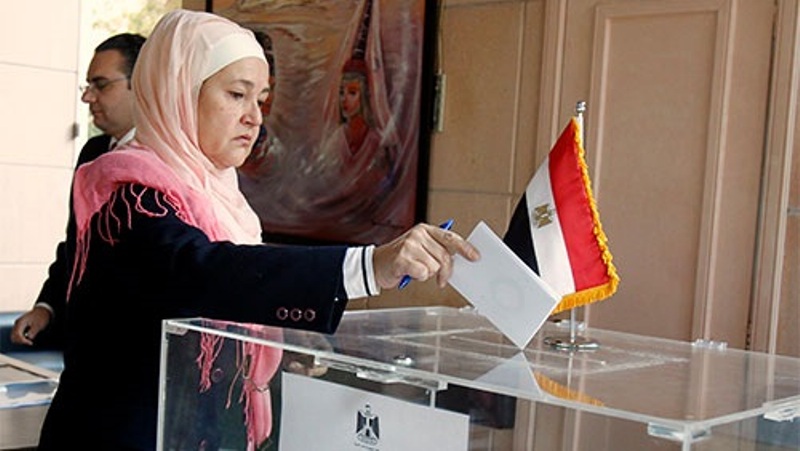 The National Council for Human Rights (NCHR) observed that the 2018 Egyptian presidential election saw a higher turnout from female and elderly voters on Monday, which was the first of three days of voting. Several electoral-silence violations were observed at some polling stations.
NCHR said, however, that the central monitoring room received complaints from voters with disabilities and elderly voters who reported that they could not cast their votes because some polling stations were difficult to access for those who face difficulties with mobility.
Elsewhere, the 'Nazaha' (Fairness) coalition monitoring the presidential election reported that participation rates were "moderate" in most polling stations on Monday.
The coalition, which is made up of three organizations – namely Egypt's Maat Foundation for Peace, Development and Human Rights, Lebanon's Volunteers Without Borders, and Switzerland's Ecumenical Alliance for Human Rights and Development – hailed organizational measures implemented in the election.
The coalition observed the satisfaction of voters with disabilities and elderly voters in polling stations across northern Egypt's Gharbia governorate. Several polling stations in Gharbia's Zefta city witnessed an intensive turnout.
The coalition further observed high participation rates in some polling stations in the Upper Egypt's Sohag city.
Observers reported that patriotic music was played at some polling stations in Greater Cairo's Helwan and Nasr City.
Meanwhile, the Maat Foundation observed a weak turnout at polling stations Cairo's Mokkatam area, while recording a high turnout in Greater Cairo's Matareya and Nasr City.
Edited translation from Al-Masry Al-Youm