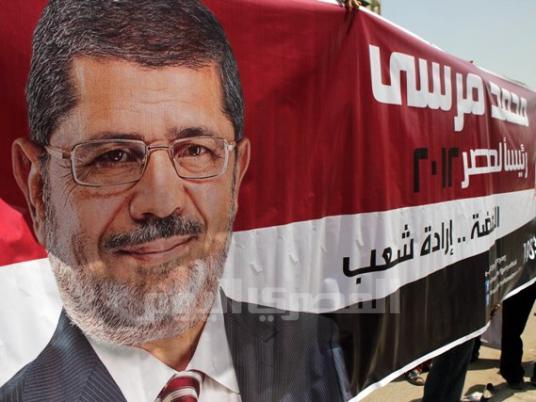 Prominent Salafi sheikh Ahmed Nashaat on Tuesday said that presidential candidate Mohamed Morsy, who is fielded by the Muslim Brotherhood's Freedom and Justice Party, has been selected by God.
Nashaat, a leader at the Jurisprudence Commission for Rights and Reform, called on all voters to elect Morsy because he is the only one capable of applying the Islamic Sharia and achieving the Islamic project.
"God chose Morsy and He will make the people vote for him," Nashaat said during a rally organized by the commission — which is widely considered a Salafi group but defines itself as moderate — and the Muslim Brotherhood.
Jurisprudence Commission Deputy Chairman Talat Afify said God will punish those who do not vote for a candidate serving the Islamic Sharia.
"We want Islam, and nothing else," he added. "And Morsy will raise the flag of truth and realize the dream of an Islamic caliphate."
Jurisprudence Commission member Omar Abdel Aziz said the Islamists decided to indulge in politics only to face the fight against Islam.
"I call on the people not to obey a president who does not apply the Sharia, even if he was elected by the majority," he said.
Morsy was endorsed by the Jurisprudence Commission for Rights and Reform for president in a meeting Wednesday when he received more than two-thirds of the group's votes.
Edited translation from Al-Masry Al-Youm