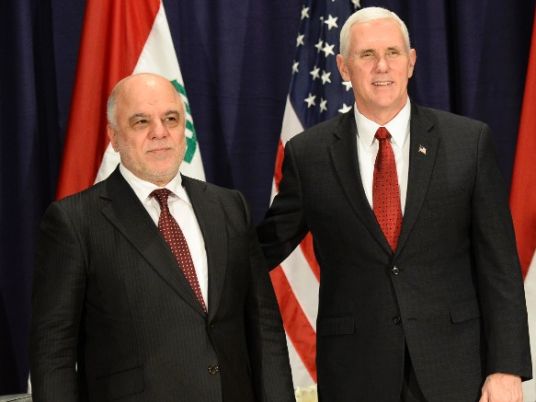 President Trump will host Iraqi Prime Minister Haider al-Abadi at the White House on Monday.
As he left Iraq for the United States Sunday, Abadi said Iraqi forces were close to ridding the country of ISIS and that he would talk to the US administration about the final steps needed. "We are in the last chapter, the final stages to eliminate ISIS militarily in Iraq," he said in a video statement.
Abadi said he hoped the US and other allies would continue to offer economic assistance to Iraq, which he said faced a financial crisis as a result of the war against the militant group.
Trump last week announced a $54 billion increase in defense spending. If approved by Congress, more than $3 billion of the additional money would be allocated to the fight against ISIS, including $2 billion for a flexible fund that would allow the Pentagon to decide how to utilize resources in support of the new counter-ISIS strategy.
Travel Ban
The meeting between Trump and Abadi may touch on some sensitive issues.
The Iraqi government objected after its citizens were included on January's executive order banning travel from certain Muslim-majority countries to the United States
Iraq was removed from the revised version of the order following intensive lobbying from Baghdad at the highest levels, a senior US official told CNN. The pressure from the Iraq officials included a phone call between Trump and Abadi on February 10 and an in-person conversation between Abadi and Vice President Mike Pence in Munich on February 18.
Those conversations were followed by discussions between Secretary of State Rex Tillerson and members of the Iraqi government about vetting measures in place that would prevent suspected terrorists from leaving Iraq and coming to the United States. Iraq did not implement new measures; rather, the country provided more detail to US officials about how it screens travelers.
In Trump's call with Abadi, the President vowed to seek a resolution to his counterpart's concerns about his citizens being unable to enter the United States, according to a readout of the phone call from Baghdad. The US official said Trump asked Tillerson to get greater clarity on vetting measures in Iraq.
Some US veterans condemned the move for its impact on Iraqis who had applied for asylum in the US after helping American forces in Iraq as translators and contractors.
Trump also faced pressure to remove Iraq from the order from some American national security officials, who argued the restriction burdened a key anti-ISIS partner.
More than 5,000 US military personnel are in Iraq, providing critical support in the war on ISIS.
Iraq's oil
Meanwhile, in January Trump said there would be no ISIS had the US kept Iraq's oil, following the US invasion into the country. "We should have kept the oil when we got out. And you know, it's very interesting. Had we taken the oil, you wouldn't have ISIS, because they fuel themselves with the oil. That's where they got the money," the US President told ABC's David Muir."We should have taken the oil. You wouldn't have ISIS if we took the oil."
Ahead of his first visit to Baghdad, US Defense Secretary, James Mattis clarified, telling reporters, "We're not in Iraq to seize anybody's oil."
"All of us in America have generally paid for our gas and oil all along, and I'm sure that we will continue to do so in the future," the retired four-star general said.
Report by Susannah Cullinane, Merieme Arif and Yousuf Basil; CNN
Photo shows Iraqi PM Haider al-Abadi with US Vice President Mike Pence in Germany in February 2017.