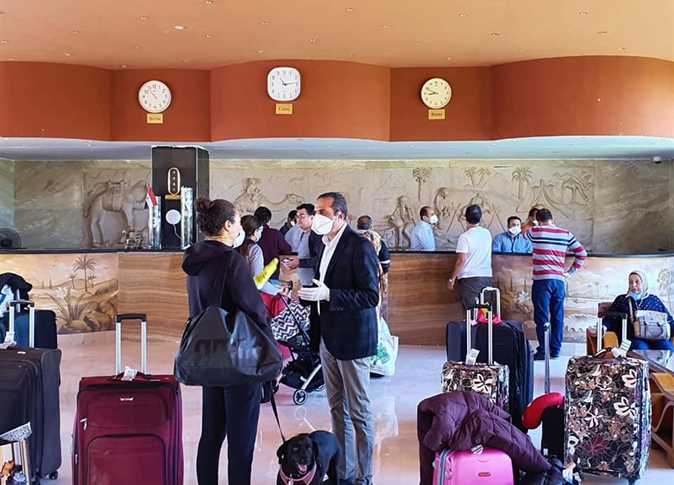 Egyptian President Abdel Fattah al-Sisi ordered his government on Saturday to continue efforts to return Egyptians left stranded around the world.
The presidency's spokesperson Bassam Rady said this comes within a comprehensive state plan to confront the coronavirus pandemic's impacts, in a manner consistent with precautionary measures related to entry through the nation's ports.
The order came during the president's meeting with Prime Minister Mostafa Madbouly, Minister of Foreign Affairs Sameh Shoukry, Minister of State for Immigration and Egyptian Expatriates Nabila Makram, Minister of Tourism and Antiquities Khaled al-Anany and Minister of Civil Aviation Mohamed Manar Enabah.
According to Rady, the meeting reviewed the situation of Egyptian citizens unable to return from abroad, with the president looking over a comprehensive count of the number of Egyptians left stranded worldwide.
It also discussed the government's efforts to return them in cooperation with authorities from the various countries based on specialized rules and schedules set to be announced through Egyptian embassies abroad.
Also discussed were the precautionary and preventive measures being applied to returnees to ensure they are not infected.
These measure include a medical examination immediately upon arrival to airports, moving them to quarantine areas, in addition to the sterilization and disinfection of all airport facilites receiving return flights and the disinfection of isolation places.
Egyptian State Minister for Information Osama Haikal said last week that the government has created a set of criteria for returning Egyptian citizens stranded abroad due to the coronavirus pandemic.
Haikal said that there are several conditions which will be applied to those stranded abroad. Travelers the government considers stranded include those who temporarily traveled to another country, whether for a visit, tourism or a medical procedure.
Those who traveled to participate in a conference or a business venture are also included, as are students stuck abroad after the cessation of their educational programs due to the coronavirus pandemic.
Haikal added that any person who does not fall within these categories and who has residency in another country is not truly stranded.
He also said that thanks to the efforts of the Foreign Ministry in monitoring the number of those stranded, it has successfully tracked 3,878 Egyptians scattered throughout various Arab and African countries, the European Union, Australia, Canada and the United States.
Egypt suspended flights from March 19 as part of precautionary measures against the spread of coronavirus.
Egypt on Saturday confirmed 188 new coronavirus cases, bringing the country's number of confirmed total cases so far to 3,032. The total number of COVID-19 deaths has now reached 224 nationwide.