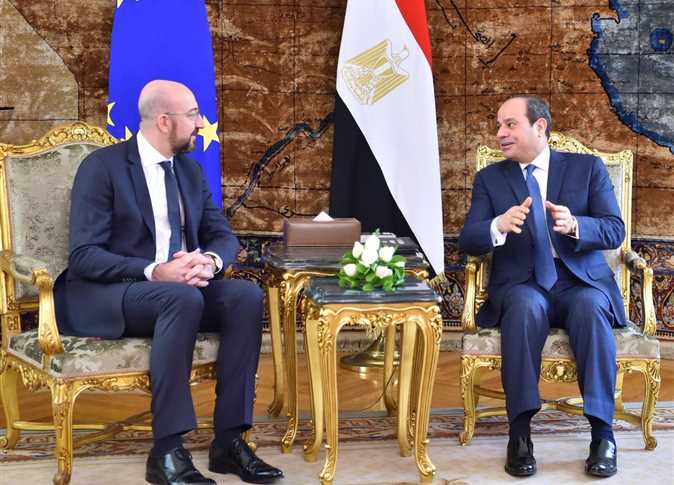 Egyptian President Abdel Fattah al-Sisi on Sunday received the President of the European Council Charles Michel at the Ettehadiya Presidential Palace.
The two sides discussed relations between Egypt and the EU, developments in Libya and African-European cooperation.
Egypt's Presidential Spokesperson Bassam Rady said that President Sisi welcomed Michel in Cairo, on his first visit to Egypt after assuming the duties of his new position as President of the European Council.
Sisi stressed the EU's position in Egypt's foreign policy framework, based on mutual respect and appreciation especially in light of the common challenges facing them on both sides of the Mediterranean.
Michel expressed his appreciation for the historical relations uniting the EU and Egypt, especially in light of the political weight Egypt enjoys internationally and regionally – as well as being a hub for security and stability in the region, currently passing through a critical period of severe turmoil.
The meeting touched on coordination between Egypt and the EU on many important international and regional issues, Rady said, especially regarding developments in Libya, as they both agreed on the importance of maximizing consultation between the two sides in this regard.
The two sides agreed on continuing to work towards a comprehensive political settlement of the Libyan issue, in order to preserve the national institutions in Libya, safeguard their sovereignty and territorial integrity, and limit illegal foreign interventions –  the end of finally restoring stability in the region and provide a better future for its people.
The spokesperson for the Egyptian presidency added that the President of the European Council expressed his appreciation towards Egypt's efforts in combating illegal immigration, terrorism and extremist ideology, stressing that it is a successful role-model in dealing with these challenges.
President Sisi expressed Egypt's desire to enhance joint cooperation with the EU in this regard, according to a comprehensive approach that addresses the main roots of these issues.
Michel discussed prospects for trilateral cooperation with Egypt and the African Union regarding development and the maintenance of peace and security in the African continent, especially in light of Egypt's presidency of the African Union. President Sisi mentioned opportunities for closer cooperation with the EU in Africa, especially regarding post-conflict reconstruction and development, and economic and social development.
Edited translation from Al-Masry Al-Youm