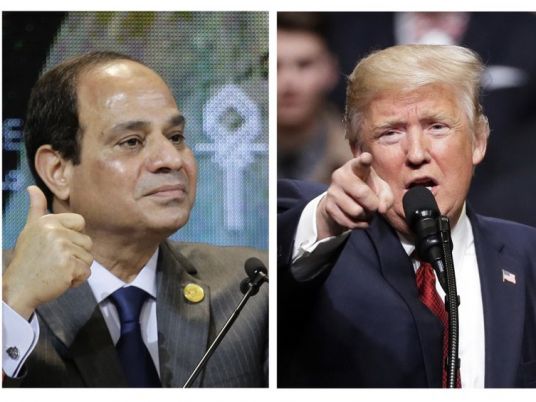 US President Donald Trump met Egyptian President Abdel Fattah al-Sisi on Monday during the 73rd session of the United Nations General Assembly in New York to discuss joint cooperation in eradicating terrorism.
The Egyptian presidency issued an official Facebook statement on Tuesday, saying that Trump stressed the US administration's role in enhancing strategic relations with Egypt, while also expressing hopes to further cooperation with Egypt on middle eastern issues in light of Egypt's central role in the region.
"Well, I want to thank you, and I want to congratulate you on doing an outstanding job with respect to terrorism. I know you're working very hard on that. It's not easy. And you're at the forefront. But you've done an outstanding job, and I just want to congratulate you. Thank you very much. Thank you very much," Trump told Sisi in a statement released by the White House.
Trump also wrote on his twitter account that "It was my great honor to welcome President of Egypt to the United States this afternoon, in New York City. Great meetings!".
President Sisi meanwhile stressed Egypt's keenness to strengthen the bond between the two countries, pointing out the importance of this partnership in promoting peace and stability in the Middle East.
He added that Egypt looks forward to further consultation with the US on various middle east issues, particularly in combating terrorism which is the greatest threat to the stability of the region and the world.
During the meeting Trump praised Egypt's efforts to firmly deal with the threat of terrorism, and stressed that Egypt is a pivotal partner in the war on terrorism.
Sisi shed light on the importance of continuing Egyptian-US joint cooperation to deal with terrorist organizations by preventing them from being funded and wiping out their hideouts.
"I was honored to meet a great personality like the US President Donald Trump, who brought about unique changes in US policies worldwide," Sisi posted on his official Facebook account.