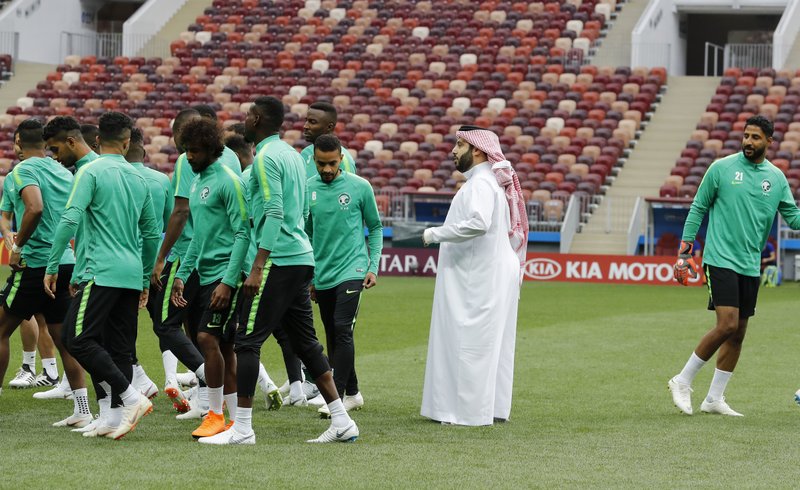 President of the Egyptian Al-Ahly Sporting Club Mahmoud al-Khatib reappointed Saudi Arabia's Chairman of General Authority for Entertainment Turki El-Sheikh as Honorary President of Al-Ahly during his visit on Wednesday to Saudi Arabia, in a sign of thawing tensions after a 2018 conflict led Sheikh to quit the club and file several lawsuits against Al-Ahly.
Khatib expressed his appreciation for Sheikh's efforts in supporting sports and art across the Arab world, with sources revealing that he decided to reappoint the Saudi official to the position of Honorary President during Wednesday's meeting.
The move comes after a conflict between Sheikh and Al-Ahly club's administration, and Khatib in particular, in 2018.
Sheikh previously claimed that he had spent LE6 million to support Khatib in elections for the club's presidency, alleging as well that Khatib had asked him to participate in some of the club's deals related to the buying and selling of players.
Relations between Khatib and Sheikh were thus quite strong before 2018, with the Saudi official offering full support to Al-Ahly during its confrontation with Atletico Madrid in 2017 at Borg El Arab Stadium. 
Sheikh was announced as the honorary head of the Al-Ahly Sports Club in a press conference after the 2017 match. The title was awarded in recognition for his contributions to a number of the club's deals and projects.
However, the club later hired a new coach, which prompted Sheikh to quit the club, criticizing the administration in a series of hostile statements issued on several media outlets.
Sheikh also filed several legal complaints against the club amid tensions with Al-Ahly's administration, which included Khatib.
In July 2018, Sheikh dropped the lawsuits against Al-Ahly club in a major reversal, commenting, "No one can drive a wedge between us. I love Ahly and I cannot and will not let anyone talk badly about them," he said. 
During Wednesday's meeting in Saudi Arabia, Khatib also announced that Al-Ahly's Moroccan footballer Walid Azaro will move to an unnamed Saudi club in January. 
Sheikh also moved to pay fines to FIFA regarding the international player license of the new Al-Ahly footballer Mahmoud Kahraba, promising as well to support Al-Ahly's deals of joining new players and the construction of Al-Ahly Stadium Club. 
Khatib arrived in Saudi Arabia on Tuesday to perform the Umrah pilgrimage following his return from a two-week-recovery trip in France. 
Khatib will visit Paris on January 25 for a medical check-up to ensure that is health has improved before completing a physical therapy program. 
Edited translation from Al-Masry Al-Youm 
Image: In this June 13, 2018 file photo, Saudi Arabia's sports minister Turki El-Sheikh talks to the national soccer team players at the 2018 soccer World Cup at Luzhniki stadium in Moscow, Russia. Egypt's close relations with Saudi Arabia are being tested by a soccer spat sparked by an uproar over meddling by Alsheikh. The minister's attempts over the last year to exert control of Egypt's biggest team enraged fans, officials and one of the country's greatest players. The acrimonious fallout led to the confidant of Saudi Arabia's powerful crown prince buying a rival club in a bid to challenge Al-Ahly's supremacy (AP Photo/Antonio Calanni, File)