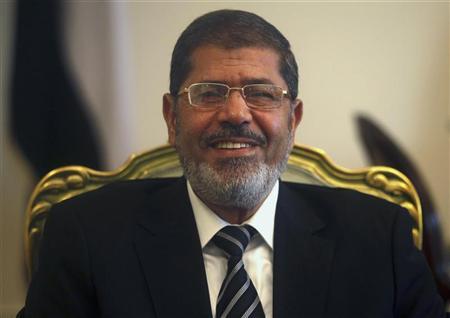 A source close to the president's office told Turkish news agency Anadolu Monday that President Mohamed Morsy is willing to revise his position with regard to a Cabinet reshuffle in order to find a solution that will be satisfactory to all political forces.
The source, who requested anonymity, said the president is inviting all forces to a dialogue in the next few days to discuss a new government, the elections law, the amendment of the Constitution, and the crisis over the prosecutor general. Since the appointment of Talaat Abdallah to the post by presidential decree, there have been calls for his dismissal.
These statements came hours after Ayman Ali, the presidential adviser managing the national dialogue, told Al-Hayat channel that the proposal for Morsy to head a "mini-government" is negotiable.
Amr Moussa had proposed a government composed of a minimal number of ministers and led by President Mohamed Morsy. That government, Moussa said, would be comprised of efficient executives who can work according to a comprehensive plan for a fixed period.
Ali said that the presidency would consider the proposal.
Opposition groups have accused the Cabinet of being economically and politically unqualified and called for a new, "neutral" government to supervise the parliamentary elections, previously scheduled for April before a court ruling delayed them.
The presidency, on the other hand, has insisted on maintaining the current government until parliamentary elections are completed.
For his part, Ahmed Omran, presidential advisor for development, said all options are on the table at the dialogue. "A reshuffle might impede our development plan, however," he warned.
"The points of agreement are more than our differences," he said. "That is why all political forces should attend the dialogue."
Another source close to the president told Anadolu News that the question about a new government is whether it should be formed of technocrats or a coalition between political parties, or both.
Changing the government was the most important condition the opposition put before it would participate in the president's national dialogue sessions.
Ali also denied claims that the Muslim Brotherhood is implementing a scheme to dominate administrative posts.
The presidency has not received documented evidence that the Muslim Brotherhood is seeking to dominate power through occupying administrative posts, Ali said in statements to Al-Arabiya news website.
He was replying to allegations made by Younis Makhyoun, chairman of the Nour Party, who claimed to have handed the president a file documenting 13,000 administrative posts assigned to members of the Muslim Brotherhood.
Anybody who has such information should declare it to the public in order to hold the president and the government accountable if these violations did occur, Ali contended.
Makhyoun stressed he had handed the alleged file to Morsy following a national dialogue session he held with political groups. "If that file has been hidden, I can produce another copy," he posted on his Facebook page Monday.
Edited translation from Al-Masry Al-Youm