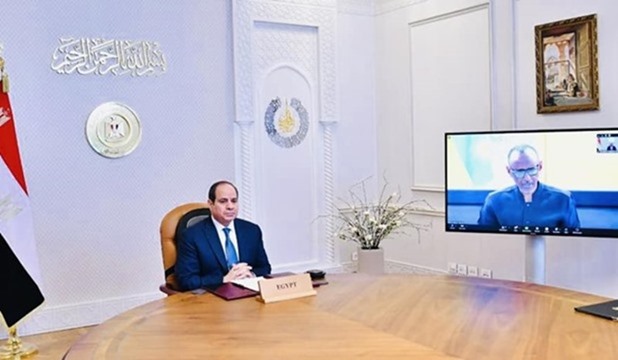 President Sisi took over the presidency of the NEPAD steering committee from Rwanda.
The Egyptian priorities during the NEPAD presidency will also include paying more attention to industrial transformation and building on what was achieved during the extraordinary African Summit on Industrialization, which was held in Niamey in November 2022, in a way that guarantees the development of continental value-added chains, which have become an absolute necessity, especially after the repercussions of the Russian-Ukrainian crisis.
Egypt will also seek to speed up achieving the goals of the Continental Free Trade Agreement by finalizing negotiations on all its additional protocols while supporting African countries to maximize the benefits that the agreement will provide, Sisi said.
Sisi added that the Egyptian priorities also include exchanging experiments of African nations in the infrastructure domain, citing the Egyptian-Tanzanian partnership in building the Julius Nyerere Dam.
He reiterated Egypt's readiness to share its experiment in the infrastructure domain with sisterly African countries.
Also, the president said Egypt will seek as well during the NEPAD presidency to step up cooperation with international partners and international financial institutions to address the financing crisis as regards implementing sustainable development projects.
The President thanked Rwandan President Paul Kagame for the tireless efforts he exerted over the past three years while chairing the NEPAD steering committee.
He also expressed appreciation for the Senegalese presidency of the AU that witnessed a full support of African countries' interests at international forums.
The NEPAD is an economic development program of the African Union.
NEPAD was adopted at the 37th session of the Assembly of Heads of State and Government in July 2001 in Lusaka, Zambia.
NEPAD aims to provide an overarching vision and policy framework for accelerating economic co-operation and integration among African countries.
Egypt is one of the founding member states of NEPAD that includes South Africa, Nigeria, Algeria, and Senegal.
MENA