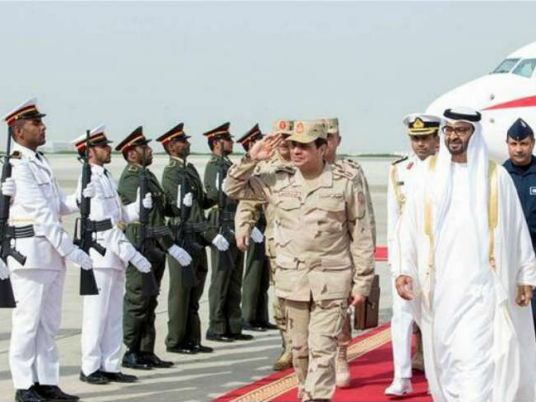 President Abdel Fattah Sisi has confirmed the government's intention to issue a unified investment law, said presidency spokesperson Alaa Youssef.
Saudi Ambassador Ahmed Abdel Aziz Qattan announced during a meeting between Sisi and Saudi businessmen Saturday that senior Saudi investors are planning LE2 billion in investments in the Suez Canal project.
Sisi referred during the meeting to the link between stability and investments and added that stability would come through the combat of terrorism and through addressing extremist ideas.
Sisi praised the role of King Abdullah bin Abdel Aziz in achieving stability and uniting the Arab nation. He stressed Egypt's keeness on the stability and security of Saudi Arabia.
President of the Council of Saudi Chambers Abdel Rahman al-Zamil, who headed the delegation of Saudi businessmen, stressed the increase of the number of Saudi investors in Egypt. There are about 3,200 Saudi companies operating in Egypt with a total investment exceeding US$22 billion, according to Zamil. He called on Egyptian ministers to visit the KSA more frequently and meet with giant companies to increase investment size.
Egypt has become a center for the export of Saudi products to African countries, Zamil pointed out, expressing hope in the integration of the Egyptian and Saudi markets.
Edited translation from Al-Masry Al-Youm