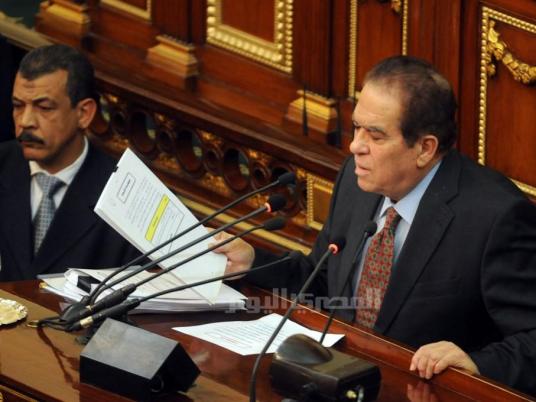 Political forces agreed during a meeting with President Mohamed Morsy Wednesday that the constitution drafting process should be concluded rapidly, and that Egyptians will have the final say in approving it, said presidential spokesperson Yasser Ali.
Ali said Morsy held a national dialogue with 65 representatives of political parties, trade unions, and universities on Wednesday at the presidential palace to discuss the future of the country.
Ali's statements imply that the current Constituent Assembly will go on with the drafting process regardless of concerns expressed by the forces that boycotted today's meeting.
According to the privately-run news website Albedaiah, more than a dozen political parties and forces refused to accept the invitation of the president, citing what they called a lack of certainty that the meeting was serious in light of Morsy preserving the current Constituent Assembly.
The parties that boycotted the meeting included the liberal Constitution Party, the Egyptian Social Democratic Party, the Arab Democratic Nasserist Party, the leftist Karama Party, the Free Egyptians Party, the Socialist Popular Alliance Party, the centrist Adl Party, and the Popular Current.
"We do not like the position of boycotting, but we respect it," Ali said. "We respect all positions."
"Difference in opinion is healthy," Ali added. "This is the democracy we sought and that the Egyptians struggled for."
Ali said that all parties were invited to the meeting, as Morsy is keen on informing the political forces of all internal and external political developments.
He also said that the political forces agreed in the meeting on a need for a constitution at this stage in order to achieve stability and attract investments.
The president also discussed differences over the Constituent Assembly, including six suggestions presented by the Wasat Party, and called for dialogue on the contentious articles in the new constitution.
"The president does not wish to impose the Constituent Assembly," Ali said. "He will not form another assembly unless this one is dissolved by the judiciary."
He pointed to Morsy's assertion that he is working toward quickly finishing the interim period with the drafting of the constitution then holding parliamentary elections.
"He also told [meeting participants] that combating corruption is his top priority," Ali said, adding that some suggested purging state institutions that operate using the logic of the former regime. Others stressed the need to listen to the demands of the workers at this stage.
"The president will meet again with the political forces after the Eid holidays," he said. "He will discuss the law on parliamentary elections in order to reach consensus over it."
The National Association for Change called for suspending the current Constituent Assembly until the Supreme Constitutional Court rules on the law that governed its formation. It said in a statement that the first draft of the constitution does not reflect popular consensus or the spirit of the 25 January revolution.
Edited translation from Al-Masry Al-Youm