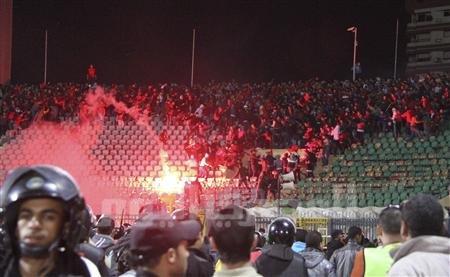 The Port Said Criminal Court on Wednesday halted sessions in the Port Said football violence trial until a decision is reached regarding one defendant's request for a change of judges.
The defense lawyer for Mohsen Sheta, the general manager of Port Said's Masry football club, requested during Wednesday's session that the judging panel be replaced, claiming that the judges do not respond to the defense lawyers' demands.
The case is being heard by the Port Said Criminal Court at the Police Academy in New Cairo. Around 75 people are being tried in the case, which held its first hearing last March, including the former Port Said head of security, three of his aides, police officers who were working security at the match and some Masry Club fans.
Last month Mahmoud al-Hefnawy, the prosecution's representative, requested The Ismailia Court of Appeals begin reviewing the request on 17 September. If the Ismailia court decides that the judges should be replaced, the new judging panel will restart the trial from the beginning. If the request is rejected, the current panel will resume the hearings from where they left off the maximum penalty for the defendants.
On 1 February, 74 people were killed and hundreds injured when Masry supporters stormed the pitch after a rare victory over Cairo's leading team, Ahly.
The violence sparked uproar in Egypt. In the weeks following the incident, demonstrations in Suez and at the Interior Ministry in Cairo protested what the demonstrators described as lax security measures during the match. At least 17 died during clashes with security forces during the demonstrations.
Edited translation from Al-Masry Al-Youm