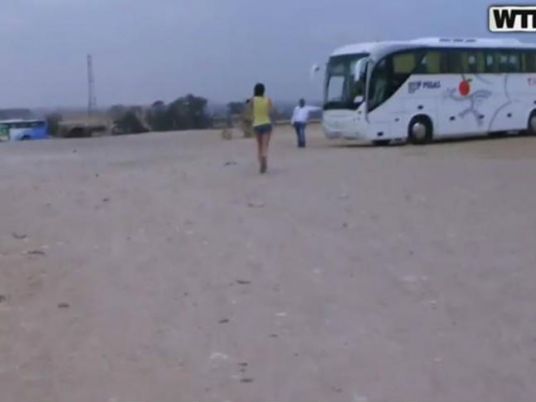 Al-Masry Al-Youm received a copy of a pornographic video clip and photos shot at the Pyramids and Sphinx, that have been uploaded on three porn websites.
Osama Karar, the coordinator of the Popular Front to Defend Antiquities in Egypt, said Wednesday that the 10-minute movie has been available online for 9 months and includes several pornographic scenes filmed at Senn al-Agouz area inside the Pyramid and near the Sphinx. The tour guide and the name of the tour company are clearly visible in the video, Karar said.
The scenes were made by Russian tourists who translated the clip into English later, he added.
"Where was security during this incident? There is supposed to be an engineering unit inside the Pyramids, responsible for watching over the site. If a violation occurs, it should be spotted immediately," Karar said, pointing out that the security system installed in the are of the Pyramids cost LE230 million.
A pornographic movie that won the best porn film award at the Cannes Festival was shot in 1997 in Luxor, Aswan, and the Pyramids, according to Karar.
He called for an immediate investigation into the incident and for tightening the control of tourists and tour companies.
The movie was photoshopped in an attempt to harm Egypt's reputaion, Youssef Khalifa, head of the Egyptian Antiquities Sector, told Al-Masry Al-Youm.
"Foreigners have their own culture, so we cannot object to kisses or acts taking place between the tourist and his girlfried," Khalifa added.
Edited translation from Al-Masry Al-Youm