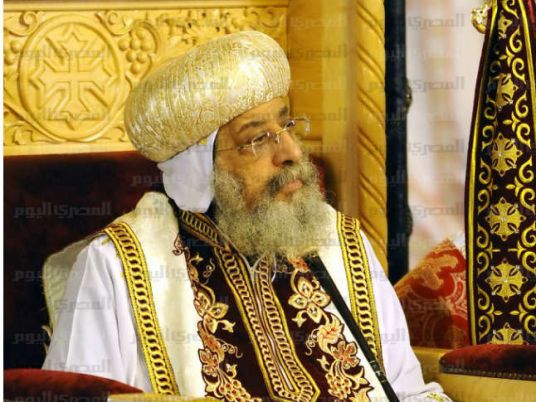 Pope Tawadros II, the head of the Coptic Orthodox Church, has said Egyptian Muslims and Copts are firmly united and have been for centuries, but said that the tolerance and diversity of Egyptian society is under attack from sectarian elements.
"Such unity and unique composition are being distorted," said the pope in a speech on Monday, referring to ongoing acts of violence aimed at the Coptic Christian community.
Tawdros highlighted the alarming number of sectarian attacks in Egypt in recent years, saying that people must face the reality of the situation.
"I myself am patient and can withstand the conflict, but in front of me is a report on the sectarian violence against Copts since 2013, detailing 37 cases in Minya alone, which amounts to an incident every month since then," he said.
"The incidents are very painful to hear about, where in Minya after the Friday prayer, groups of Muslims burn Christian homes, thinking they are churches. This is not a social crime, but a deliberate attack. We need to describe things as they really are, because the truth of the matter is important. These attacks are the reason Copts are getting angry."
The pope made the remarks in a speech on Monday when he received members of the parliamentary religious committee, headed by Osama al-Abd and Major General Saad al-Gamal. In addressing committee members, he called on them to find solutions to the rise in sectarian violence, saying: "This is your role before the Church and Azhar. I highly rely on such visits."
In issuing his plea for more action to contain sectarian violence, the religious leader said the Coptic Church is dealing with a great deal of anger on the part of Copts, both those living in Egypt and abroad. He told his visitors on Monday that such anger cannot be held at bay indefinitely.
"We have urged Copts living in the United States particularly not to protest against the sectarian violence that has been happening recently," he continued. "I stressed that no protests should be conducted. I have it under control for now, but they don't all listen to me."
Responding to the pope's concerns, Major General Gamal said that he intends to pass a law that will mean stricter sentences for those who undermine social unity, because such crimes are matters of national security and affect Egypt as a whole. He said he will present a draft of the law to parliament on behalf of the Egypt State Support Coalition.
He added that parliament is reviewing the laws regarding the building of churches, which has been an issue of major concern for Copts and the source of much tension on the ground.
However, Tawdros said that Copts fear that parliament will pass a new law further restricting the building of churches. He said Egypt's existing law covering church building is archaic, dating back to Ottoman times, and need to be amended. The Coptic Church would certainly oppose any new law that put limits on church building, he said.
Since the January 25 uprising in 2011, Egypt has witnessed many incidents of sectarian violence, often in rural areas.
Minya has been the scene of several sectarian clashes recently. Last week, a young Christian man was killed and three others injured in a knife fight in Tihna al-Jabal village, an incident sparked by an alleged verbal attack on a local priest.
In May, an elderly Coptic woman was stripped of her clothes and dragged through the streets of Karam village, Minya, after rumors spread that her son was having an affair with a local Muslim woman. Several Christian homes were torched that same week as a result of the tensions.
Additionally, last Friday, a mob in the village of Saft al-Kharsa in Beni Suef attacked a building under construction on Friday afternoon after a rumor went round that it was to be an unlicensed church. The attack led to the destruction a Christian man's house and a car.
Edited translation from Al-Masry Al-Youm