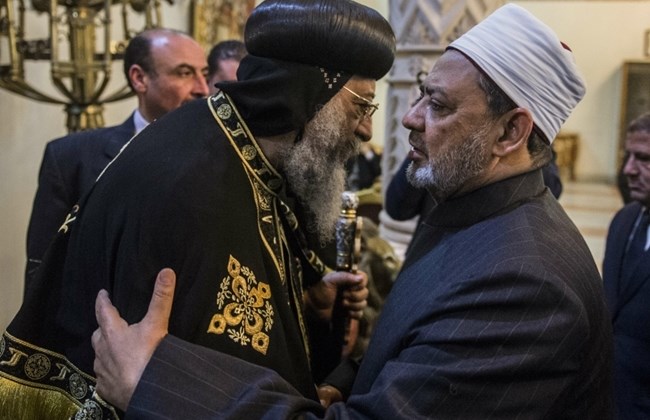 Grand Imam of al-Azhar Mosque, Ahmed al-Tayeb, met on Monday with the Pope of the Coptic Orthodox Church of Alexandria, Tawadros II who congratulated all Muslims as Eid al-Fitr (Feast of breaking the Fast) approaches in June 15.
Tayeb appreciated Pope Tawadros II's good will, asserting that the visit reflected the spirit of love among Muslims and Copts, who have faced numerous challenges and threats together such as terrorism.
Tayeb praised the role of "Bayt al-Aelaa al-Masryaa" (Home of the Egyptian family) Initiative in spreading a spirit of the national unity among young men across the country's mosques, churches, monasteries, clubs and youth centers.
The pope added that cohesion across various festivals is one of the distinguishing values of Egyptian society.
He added that these technical and cultural activities should encourage unity within Egyptian instead of immoral acts contrary to the nation's values.
Edited translation from Al-Masry Al-Youm