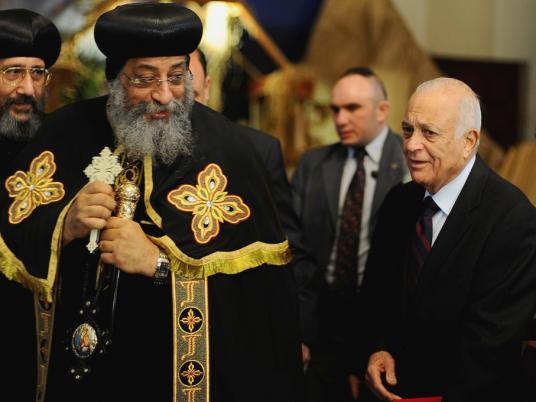 Pope Tawadros II announced Tuesday that he has cancelled his weekly sermon and postponed mourning for the victims of recent sectarian violence.
The pope's secretary said the religious leader is angered following the Sunday attack on St. Mark's Coptic Orthodox Cathedral in Cairo's Abbasseya district over the weekend.
Tawadros criticized police during a phone interview aired on the Marmorqos Coptic Channel Tuesday morning, accusing them of failing to secure the cathedral and funeral procession.
At least two people were killed following the attack on Christian mourners attending funeral services of four other Copts killed Friday during a shootout in Khosous, Qalyubiya, between Muslim and Christian residents. One Muslim resident was also killed.
The secretary said a government delegation had visited the cathedral as part of the ongoing investigation into the violence.
Meanwhile, the Coptic Millet Council, a body in charge of the church's administration affairs, issued a statement Tuesday evening, saying the country's political leadership is unable to unite society or defuse sectarianism for the first time in the nation's history.
The council also offered its condolences to the families of those who died in the Khosous and cathedral attacks.
Furthermore, it expressed its deep concern for what it called the systematic nature of attacks on Egyptian Christians, which has worsened in recent months due to the government's failure to apply the rule of law.
It has also failed to bring perpetrators of other sectarian violence to justice, which reflects poorly on the state and its respect for the freedoms of citizens and religious institutions, citing the deadly Two Saints Church attack and Maspero massacre as prime examples.
The statement added that police were seen firing tear gas canisters at the cathedral, while masked men were spotted inside armored vehicles during the incident. This has raised doubts whether the state is truly dedicated to protecting Copts.
The council blamed the government for the deteriorating security situation and demanded an independent investigation into the violence.
The statement emphasized that freedom of belief, the right to security and the protection of property as well as places of worship are undeniable rights stipulated by religion, the Constitution and international convention. Therefore it is the duty of rulers to ensure those rights are protected.
"The council will not relinquish those rights under any circumstances," said council member Kamel Saleh.
Edited translation from Al-Masry Al-Youm