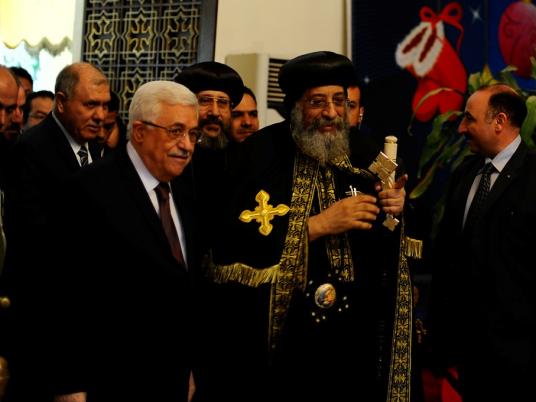 Pope Tawadros II called on Al-Azhar to expand its Family House initiative as part of efforts to boost patriotism and reconciliation between Muslims and Christians.
According to state-run MENA news agency, the pope's remarks came during a meeting on Tuesday at St. Mark's Coptic Orthodox Cathedral in Abbasseya with a delegation from Al-Azhar, headed by Mahmoud Azab, the grand sheikh's advisor.
"The pope expressed pride and confidence in Al-Azhar," said Azab. "And he hoped we could work together to support the true values of Islam and Christianity of mutual respect and co-existence."
The Family House initiative was spearheaded by Al-Azhar to foster national consensus between the two faiths.
It was announced in January 2011 after the deadly Two Saints Church explosion in Alexandria and endorsed by the Supreme Council of the Armed Forces during its rule following the revolution.
The organization's committee is made up of Muslim and Christian scholars, whose goal is to foster solutions to end sectarian strife.
During the meeting, the Al-Azhar delegation offered its condolences for the victims of recent sectarian clashes last week in the Qalyubiya governorate community of Khosous as well as in front of the iconic cathedral.
Several Copts and one Muslim died in the clashes.
Edited translation from MENA