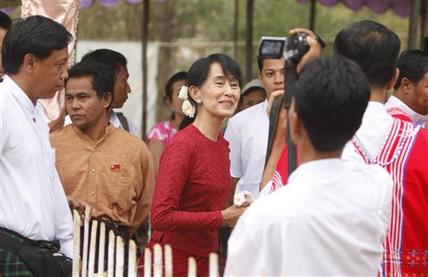 Myanmar's Aung San Suu Kyi addressed a crowd of thousands Friday in the biggest celebrations honouring her independence hero father in memory, underscoring her legacy months before leading the opposition to momentous elections.
In scenes reminiscent of her triumphant election campaign three years ago, Suu Kyi addressed a huge crowd in her father?s central Myanmar birthplace, with many supporters waving her party flag or portraits of the general as an earnest young revolutionary in a military cap.
"If we want to inherit from my father, we have to build a real democratic nation,? said an emotional Suu Kyi, adding that his "sincerity" had ensured his legacy endured.
Known affectionately as "Bogyoke", or General, Aung San is adored in Myanmar and credited with unshackling the country from colonial rule and embracing its ethnic minorities, in a vision of unity that unravelled catastrophically in the military-dominated decades that followed his 1947 assassination.
Suu Kyi was just two at the time of his death.
Thursday's rally marking the centenary of Aung San's birth in Natmauk — a remote town nestled in the dusty plains of central Myanmar — is the centrepiece of countrywide celebrations that are far more extensive than previous years.
People had camped out overnight to see "the Lady", as she is known, many sleeping on the ground in the local pagoda, on roadsides or in their cars in the farming town.
The celebrations come as Myanmar awaits a breakthrough general election later this year seen as a crucial test of the country's emergence from military rule.
Images of Aung San have been deeply entwined with the political rise of his Nobel laureate daughter since her release from house arrest over four years ago.
– Family affair –
Suu Kyi frequently referenced her family link while campaigning for the 2012 by-election that swept her into parliament for the first time.
"Being the daughter of Bogyoke Aung San is one of the reasons that Daw Aung San Suu Kyi has reached the position she is in today. It's not the only reason, but it is one of them," Nyan Win, the spokesman for Suu Kyi's National League for Democracy, told AFP. Daw is a term of respect in Myanmar.
Nyan Win said that with a poll date yet to be announced, campaigning has not officially begun and the party is not yet in election mode.
"It's logical for politicians to try to draw some kind of support or inspiration from what he did," said Trevor Wilson, an academic at Australian National University and former ambassador to Myanmar.
But he said no single party had "exclusive rights" to Aung San, who is also seen as the father of the country?s powerful army.
Public reverence for Aung San was kept muted under the junta that kept his daughter locked up for the best part of two decades, away from her two sons and dying husband.
But a quasi-civilian regime that came to power in 2011 has ushered in a new era of political openness, although a clause under the junta-era constitution currently bars her from the presidency.
Key figures from the ruling party and government have been keen to show that they share the public adoration of Aung San.
"The general is our general. He is our country?s leader? Because I am a retired soldier, I respect him more," immigration minister Khin Yi told AFP on Thursday in Myanmar's capital Naypyidaw.
Born in 1915 under British colonial rule, Aung San became leader of the nationalist fighters in what was then Burma, joining the Japanese in their 1942 invasion of the country during World War II.
Unhappy with the new occupying force, he later switched allegiance to the Allies, leading to the return of the British.
The 1947 Panlong Agreement, a deal with ethnic groups and the British that paved the way for independence and promised political autonomy for minority groups, is seen as one of Aung San's crowning achievements.
But within just a few months he would be dead, gunned down in a murky assassination plot, and soon after independence in 1948 the country became entangled in a series of long-running civil wars.
"I love and respect his daughter Aung San Suu Kyi. I want her to be a president. Our country will develop so much if she becomes president," Yangon waiter Kyaw Ko Ko Latt told AFP.
But, he added, despite her many achievements, "she cannot match up to her father".