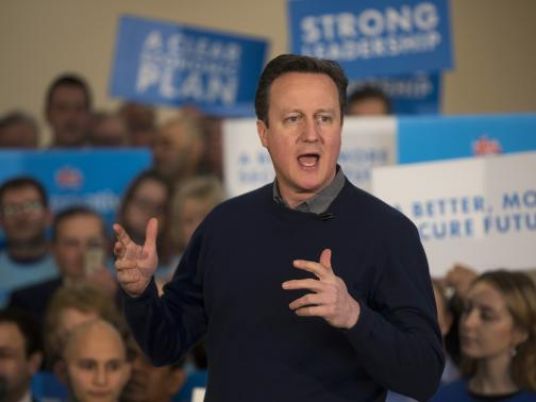 British Prime Minister David Cameron's Conservatives are still running neck and neck with the main opposition Labour Party ahead of next month's election, a poll on Saturday showed, further indicating a major TV debate had failed to sway voters.
An Opinium/Observer newspaper survey put the Conservatives down 1 point on 33 percent, level with Labour whose rating was unchanged, with the anti-European Union UK Independence Party in third, up 1 point to 14 percent.
The election on May 7 is set to be the tightest in Britain for decades partly because traditionally minor parties such as UKIP and the Green Party are polling much higher than before.
Snap polls taken after the TV debate featuring seven party leaders on Thursday night suggested there was no clear winner, but the Opinium survey appeared to confirm the view of many political commentators that Nicola Sturgeon, leader of the Scottish National Party (SNP) had been the best performer.
She came out on top according to 20 percent of those polled, with Cameron on 17 percent and Miliband 15 percent. Sturgeon and Cameron were also seen as the most convincing.
The Opinium poll also found their personal approval levels for both Miliband and UKIP leader Nigel Farage had sharply risen.
Earlier on Saturday, Sturgeon denied making private comments that she would rather Cameron was returned to power than Labour leader, Ed Miliband, who she described as not being prime minister material, according to a report in the Daily Telegraph.
The surging SNP are projected to win dozens of seats in Scotland from Labour, and Sturgeon again repeated that her party could work with Miliband to keep out the Conservatives whose austerity measures her party strongly opposes.