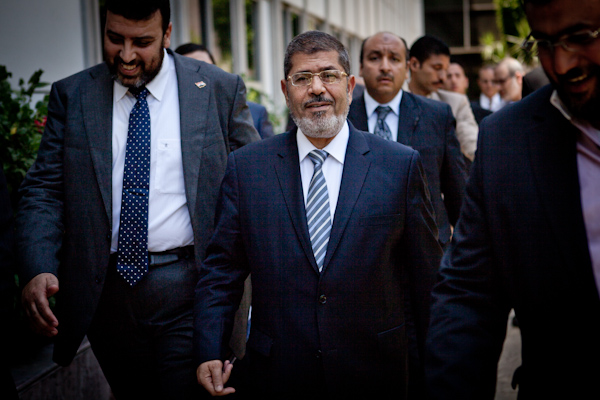 Political parties on Monday criticized President Mohamed Morsy for approving a law that was issued by Parliament before its disbandment on 14 June setting the criteria for the Constituent Assembly that would draft the new constitution.
Observers considered it an attempt on Morsy's part to protect the assembly, which is dominated by Islamists, from lawsuits filed against it. On Tuesday, the Administrative Court is considering the lawsuits filed for the dissolution of the Constituent Assembly.
"This endorsement proves that the Muslim Brotherhood did not learn from past mistakes that caused the current division between political forces," said Saeed Kamel, leader of the liberal Democratic Front Party.
"It also proves that Morsy is biased toward the decisions of the Guidance Bureau and does not seek to contain political differences with wisdom and prudence, for this is a political problem, not legal," he added.
The Conservative Party on Monday also criticized Morsy's decision, considering it a circumvention of the judiciary and an abuse of power.
Essam al-Erian, vice president of the Freedom and Justice Party, claimed in a press statement on Monday that there is a constitution in the drawers of the military council that was prepared by the men of Mubarak, Suleiman and Shafiq, as he put it.
News circulated on Saturday that Major General Mamdouh Shahin, a member Supreme Council of the Armed Forces, had said a ruling to dissolve the assembly had already been issued.
A military source denied the news on Sunday. The source, who spoke to Al-Masry Al-Youm on condition of anonymity, expressed hope that the assembly will resume its work, saying, "It's on the right path to draft the new constitution."
Edited translation from Al-Masry Al-Youm