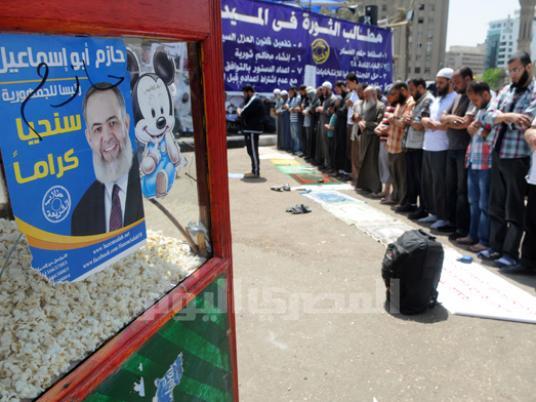 A number of youth movements and political parties announced they would not participate in a Tahrir Square protest planned for Friday.
Disqualified presidential hopeful and Salafi leader Hazem Salah Abu Ismail and the Youth for Freedom and Justice Movement have called the protest to demand the release of protesters arrested by military police in Abbasseya last Friday, as well as to defend their right to demonstrate peacefully.
Hundreds of protesters were detained last week when a demonstration in the Cairo neighborhood turned violent outside the Defense Ministry, resulting in the death of one soldier. At least 11 people died in clashes at the same protest earlier in the week.
The April 6 Youth Movement-Ahmed Maher Front said it would not take part in tomorrow's demonstration because its members are busy with a campaign against presidential candidates who served under Mubarak's regime, as well as a campaign to monitor the presidential election. The front also added that the objectives of the demonstration were unclear.
The National Association for Change warned against enticing revolutionaries to support causes that only serve personal or party interests as part of the struggle for power. The association called on revolutionary movements to avoid "traps set for them" that could harm national interests.
Giving priority to upcoming election, the liberal Wafd Party said it would not take part in any protests because it wants the transition from military to civilian rule to be completed as soon as possible. The party expressed support for the Presidential Elections Commission.
The leftist Tagammu Party said it has no plans to join the protest because it is merely a show of power aiming to intimidate voters to support the Brotherhood's candidate, Mohamed Morsy, in the presidential election.
These comments came despite the Muslim Brotherhood's decision not to participate in the demonstration. The group said the presidential election is more important, adding that the country needs stability and that officials have already heard the people's demands.
Farid Ismail, a leader of the Brotherhood's Freedom and Justice Party, said these demands could be summarized as handing over power to civilians no later than 30 June and taking necessary measures to ensure the integrity of presidential election, as was the case with the parliamentary elections.
Edited translation from Al-Masry Al-Youm