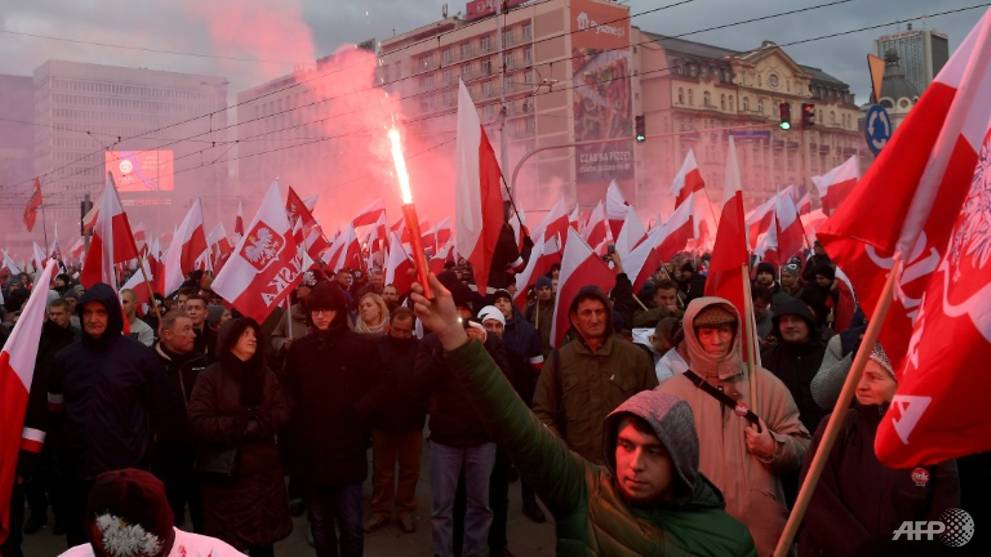 WARSAW, Poland (AP) — Poland is celebrating the 100th anniversary of its rebirth as an independent state on Sunday with a multitude of events across the country, including marches, Masses, and the national hymn being sung in more than 600 public places.
The national white-and-red flag fluttered from buildings and buses, dignitaries and regular citizens placed flowers and wreaths at memorials to the father of Polish independence, Marshal Jozef Pilsudski, and the historic Sigismund Bell, reserved only for the most important national events, rang out over Krakow.
Poland regained its independence at the end of World War I in 1918, reborn from the ashes of three defeated powers that had partitioned and ruled the Central European nation for more than a century.
The ceremonies in Poland coincide with world leaders gathering in Paris on Sunday to mark the armistice of what was then called the Great War.
To mark the occasion, the Foreign Ministry in Warsaw released a video with citizens of countries from the United States to Germany to Japan reading out the diplomatic cable of Nov. 16, 1918, that informed the world about the creation of the Polish Republic.
Signed by Pilsudski, commander in chief of the armed forces, it declared that Poland "wishes to notify the governments and nations of the existence of an independent Polish state, encompassing all the territories of a reunified Poland."
President Andrzej Duda attended a Mass early Sunday and laid wreaths at monuments honoring Pilsudski and other fathers of Poland's independence.
Meanwhile, Donald Tusk, a former Polish prime minister and a top European Union leader, took part in an emotional ceremony at a statue of Pilsudski, singing the anthem with leaders of Poland's opposition Civic Platform party and a crowd that gathered with them.
Poland's regained independence fulfilled the dreams of generations of patriots who had kept the language and culture alive despite foreign rule and repression. Though Poland was ruled by Russia, Germany and Austria, and effectively was "wiped off the map" as a state, it was nonetheless a great age for Polish culture, producing the compositions of Frederic Chopin and the works of the great Romantic-era poet Adam Mickiewicz, which largely revolved around the yearning for Poland's rebirth.
Throughout it all, the Roman Catholic church played a key role in keeping the language and the identity alive.
Contemplations of Poland's historic achievement in 1918 are inevitably shaped by knowledge of what came later, with Poland to be invaded and occupied yet again in the 20th century by the Germans and the Soviets, and then being under Moscow's influence during the Cold War era.