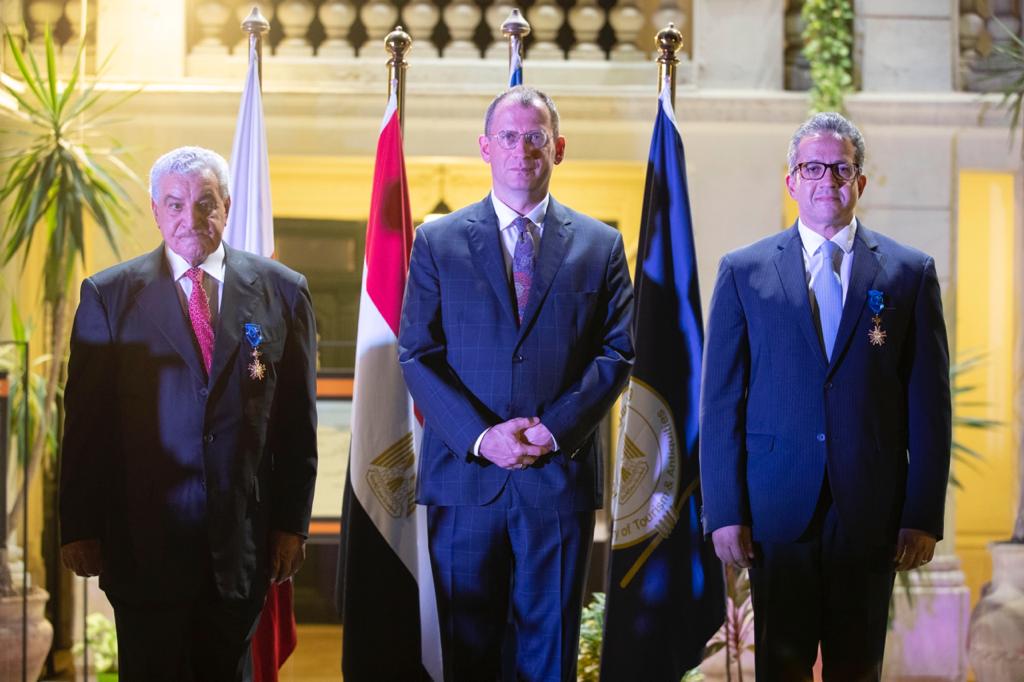 In a ceremony held in the garden of the Polish embassy in Cairo on Sunday, the Polish government awarded its country's Order of Merit to the Egyptian Minister of Tourism and Antiquities, Khaled al-Anany, and Egyptologist Zahi Hawass.
The Polish Ambassador to Egypt, Michał Łabenda, presented the award to Anany and Hawass.
During his speech at the ceremony, Ambassador Łabenda said that the the two men are receiving the medal for their accomplishments in the field of archaeology, as well as their efforts to increase cooperation between Poland and Egypt in the archaeology and tourism sectors.
Anany expressed his happiness at receiving the medal during his acceptance speech, thanking the government and people of Poland.
Hawass, who previously served as Egypt's Minister of State for Antiquities Affairs, hailed the joint cooperation between the two countries in training the archaeologists.
Both Łabenda and Anany noted the close relationship between the two countries, with Anany pointing out that Poland was one of the first countries to send tourists to Egypt as coronavirus travel restrictions were lifted worldwide.
Poland is one of the top 10 countries contributing to tourism to Egypt, with over 400,000 Polish tourists visiting the country in 2019.
The Egyptian Ministry of Tourism and Antiquities announced the resumption of flights between Poland and Sharm el-Sheikh, Hurghada, and Marsa Alam in August.
Since the country's reopening on July 1, the tourism ministry has been working closely with the aviation ministry to reopen flights to and from a number of countries.