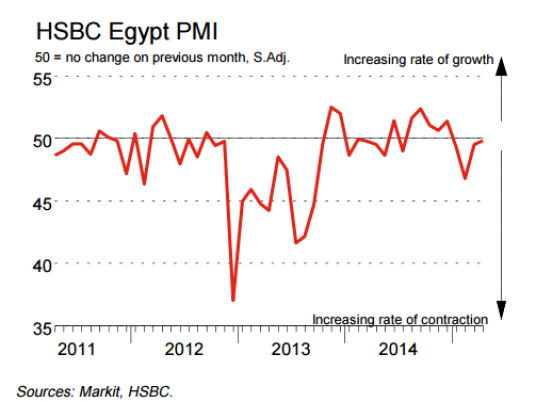 Business activity in Egypt's private sector, excluding oil, shrank in July, with modest declines in output, new orders, and employment, a survey showed on Tuesday.
The Emirates NBD Egypt Purchasing Managers' Index dipped to 49.2 in July from 50.2 the previous month. A reading above 50 indicates expansion and below 50, contraction.
The previous month's PMI had been the first expansion after five consecutive months of contraction.
"The drop in July's survey came in below expectations, and hence raises the possibility that Egypt's macroeconomic recovery may have stalled at the start of FY2015/16," Emirates NBD economist, Jean-Paul Pigat, said.
Output fell in July for the first time in three months, though the contraction was "only slight", and was due to subdued demand, respondents said.
New export business declined for the second time in three months, compounding softened demand. Respondents said a lack of stability in major export markets across the Middle East led to a decline in new work from abroad.
"That said, assuming the two biggest factors that are undermining private sector business activity at the moment – security risks and FX liquidity shortages – improve in the coming months, we would be optimistic that growth momentum can accelerate in H2," Pigat said.
Respondents reported that a shortage of foreign currency rendered them unable to meet suppliers' cash requirements.
Non-oil private sector companies also raised prices for the second month in a row during July. Some respondents said this was the result of higher input costs being passed on to consumers.
Egypt's urban consumer inflation dropped to 11.4 percent in June from 13.1 percent in May, official statistics agency CAPMAS said in early July.
The depreciation of the Egyptian pound against the U.S. dollar also led to a rise in purchase prices last month, respondents said.
Egypt's central bank allowed the pound to depreciate to 7.73 pounds to the dollar early in July, a move analysts say could boost exports and attract new investment, but which raises the cost of imported materials for local producers.
Non-oil private sector employment in Egypt also fell and at the fastest rate for three months, although it was still modest.
President Abdel Fattah al-Sisi has pledged to reduce joblessness to 10 percent over the next five years. Unemployment stood at 12.8 percent during the first three months of 2015 according to the government's statistics agency, but analysts believe actual unemployment may be higher.
Detailed PMI data is only available under licence from Markit and customers need to apply to Markit for a licence. To subscribe to the full data, click on the link below: here