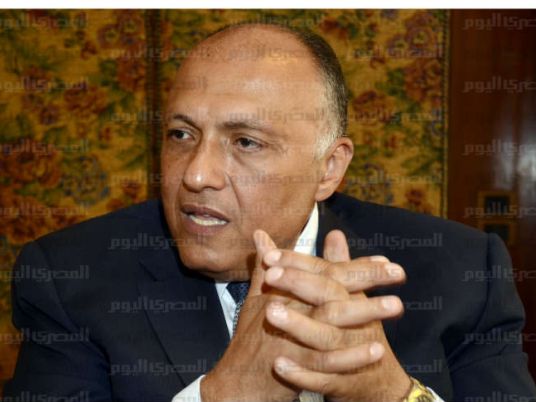 President Abdel Fattah al-Sisi received on Tuesday a report from Foreign Minister Sameh Shoukry about his recent visit to the United States, during which he met a number of senior US officials and leaders of both Congress houses, as well as the new United Nations Secretary General, Antonio Guterres.
Alaa Yousef, a spokesman for the presidency, reported that the foreign minister said during his meeting with Sisi, that Mike Pence, US Vice President-elect Donald Trump's pick, expressed great appreciation for Egypt and Sisi, stressing the intention of Trump to strengthen bilateral relations with Egypt and develop it to promote peace and stability in the Middle East.
Shoukry displayed the results of his talks with US Secretary of State, John Kerry, which tackled various aspects of relations between the two countries, including Egypt's efforts in combating terrorism, and evaluated developments in the Middle East, particularly with regard to the need to unite efforts against terrorist groups in the region.
The two officials discussed the Palestinian-Israeli conflict and the situations in Syria, Libya, Yemen, and Iraq.
They also discussed Egypt's economic situation after the government applied reformatory measures in November.
Shoukry referred to a MoU he signed with the US secretary of state to prevent the smuggling of antiquities and recover four artifacts that were smuggled into the United States.
Shoukry met with a number of leaders of the House of Representatives and the US Senate, like the House Speaker, Paul Ryan, who requested the transfer of a message of support to Sisi, stressing that he is keen to make his first foreign visit after taking office to Egypt to demonstrate the depth of the strategic relationship between the two countries.
Congressional leaders expressed during the meetings interest in the political and economic reforms carried out by Egypt, said Shoukry, adding and that most of the Congress committees' heads confirmed they are looking forward to further Egyptian-American convergence.
Edited translation from Al-Masry Al-Youm