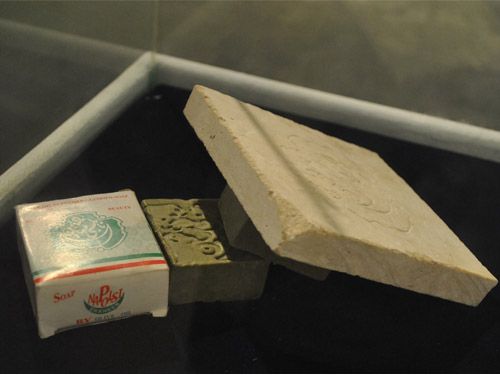 Last June, a famous olive oil soap "fossil" from the brand Nabolsy Shahin was exhibited in a vitrine at the Gezira Art Center in Zamalek, along with its trademark carton box. A little note read that the "fossil" had been discovered in the home of Egyptian TV star Galila Mahmoud in 2012.
The show, called "The Supermarket Exhibition," featured more than 20 artists tackling the issue of consumerism.
Artist Wensh's piece was perhaps the smartest, wittiest and most humorous in the show.
The up-and-coming coming Alexandrian artist is mostly inspired by pop culture and often showcases unknown tidbits about his pieces.
According to the artist, this famous, high-quality soap was among the most advertised products more than 60 years ago.
In 1948, Om Kalthoum advertised for it — only then, it was still called Nabolsy Farouk after Egypt's last monarch.
The Arab world's foremost songstress appeared on the pages of magazines in a white lace dress, holding a pink silk handkerchief.
"The bride of the week, Miss Om Kalthoum," the ad read.
The singer expressed her love for the olive oil soap and added that people who didn't use it were missing out on clear skin. It also boosted Om Kalthoum's faith in "the present and future of Egyptian industry."