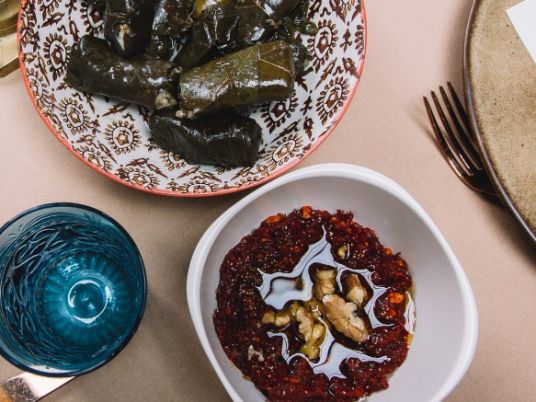 As a Syrian refugee living in the UK, Imad Alarnab has faced many hardships.
But even in the most difficult of times, one thing never faded: his love of Syrian cuisine.
Before the Syrian civil war, Alarnab had built a successful restaurant empire in Damascus — always full of people, serving generous portions.
"The only thing you need (in Syria) is a good location, nice tasty food and a lot of quantities," he tells CNN.
"You don't need this social media thing; marketing comes from the customers themselves."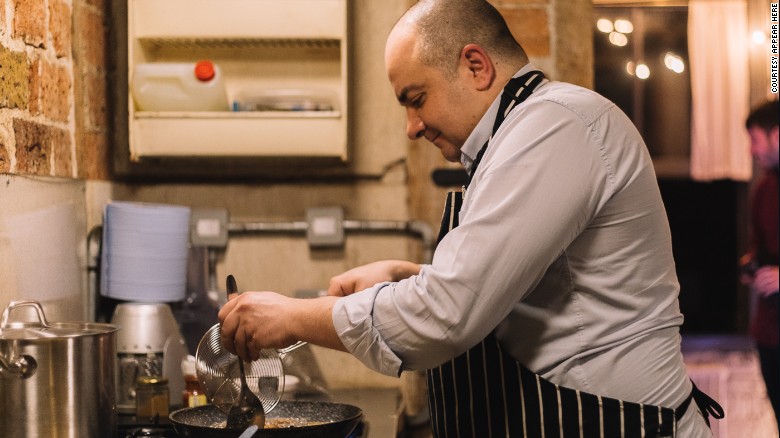 When Alarnab lived in Syria, he ran three successful restaurants and a juice bar.
Alarnab now lives in the UK with his family after making the challenging journey from Syria. He crammed himself into the back of trucks and slept on church steps, all so he could find a better, safer life in Europe.
Once he arrived in the UK, he began working as a car salesman putting aside his passion for food — until now.
With the help of several charities — including the Unicef Next Generation Project, The Hampstead Kitchen Feed Fund and Appear Here — Alarnab was able to turn his dream of cooking again into a reality.
Imad's Syrian Kitchen
For two weeks in the heart of London he ran the pop-up restaurant Imad's Syrian Kitchen, which was fully booked almost instantly.
"This success is nothing like I could have ever hoped for," Alarnab says.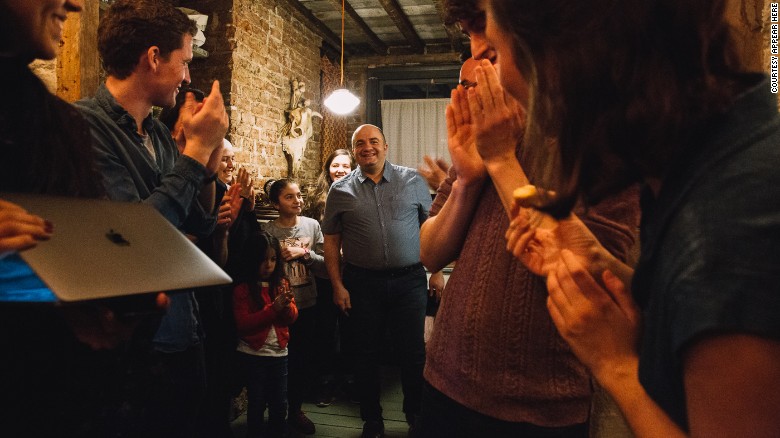 Imad's two-week pop up restaurant in London was a success and sold out almost instantly.
But this wasn't any restaurant.
Imad's Syrian Kitchen oozed character and warmth, recreating the environment of the restaurants Alarnab once owned in Syria.
"It's always very crowded (in Syria)," Alarnab tells CNN. "In general, we are big families. I have 14 uncles and we were 98 grandsons so you can imagine a dining table for 12 people — all of these people are not just around it but sometimes under it!"
In London, Alarnab served customers large sharing platters under candlelight at intimate family-style kitchen tables.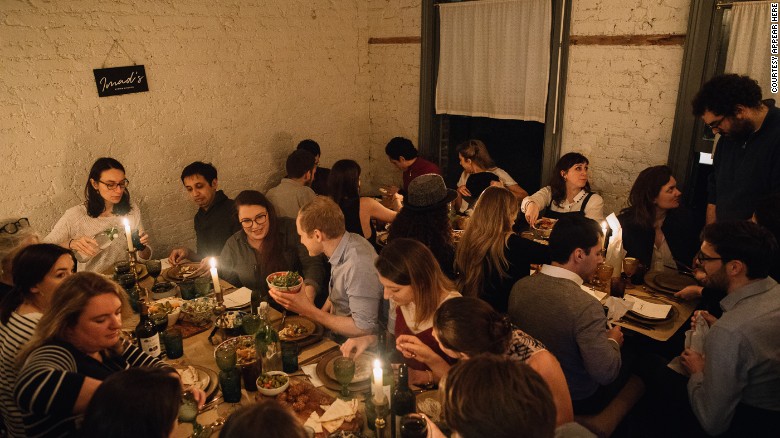 Alarnab recreated the environment of the restaurants he once owned in Syria.
"My restaurants were like this before (in Syria). We had customers (who would) come in looking for their own spot … they used to feel as if it was their own restaurant.
"They would say, 'I used to sit here and now someone's sitting there!' It would be annoying for them."
Everything on Alarnab's menu are dishes his mother cooked in Syria.
These include fattoush (a salad with toasted flatbreads, pomegranate molasses, tomato and cucumber), kabsa (spicy chicken with cardamom and rice), kebab hindi (meatball stew) plus many crowd favorites — including tabbouleh, hummus, falafel and baklava.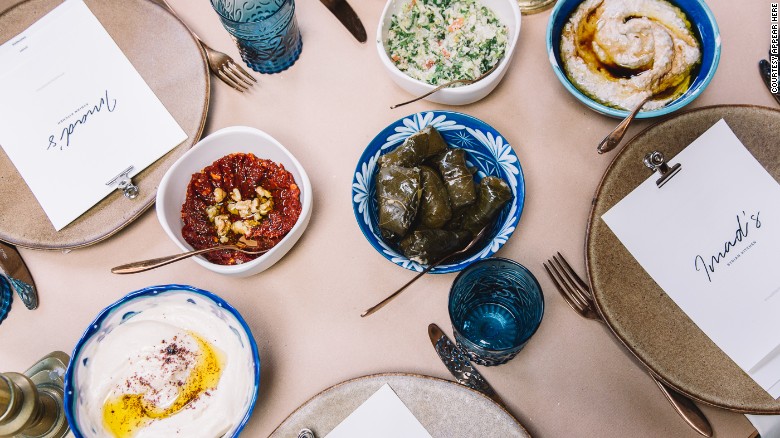 Patrons at Imad's Syrian Kitchen are served large sharing platters under candlelight, and seated closely at family-style kitchen tables.
The dish he'll never cook
Alarnab was taught how to cook by his mother, who passed away while he was making the journey from Syria to the UK.
"That was the most hard time for me since I arrived," Alarnab says. "No one can be as good (at cooking) as she was — not me, not anyone."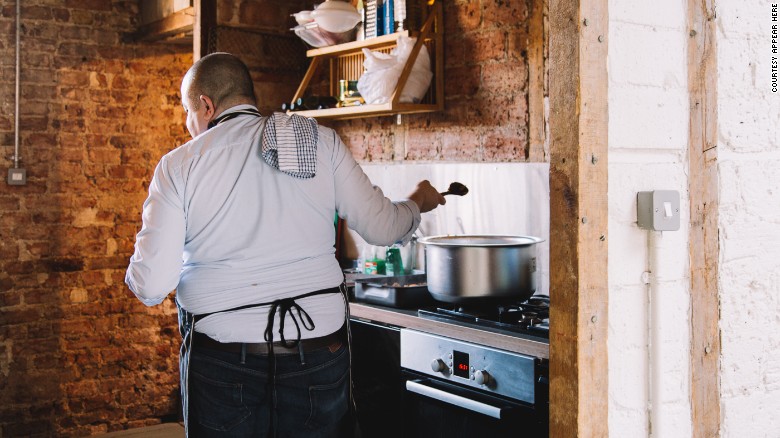 Alarnab said he hopes to open up a permanent restaurant location in London.
He remembers a dish she used to cook, unable to explain it in English.
"She was the only one who could cook that dish so good. I think she took the recipe with her (when she died)," Alarnab says.
For the sake of his mother's memory, he says he'll never try to recreate the dish.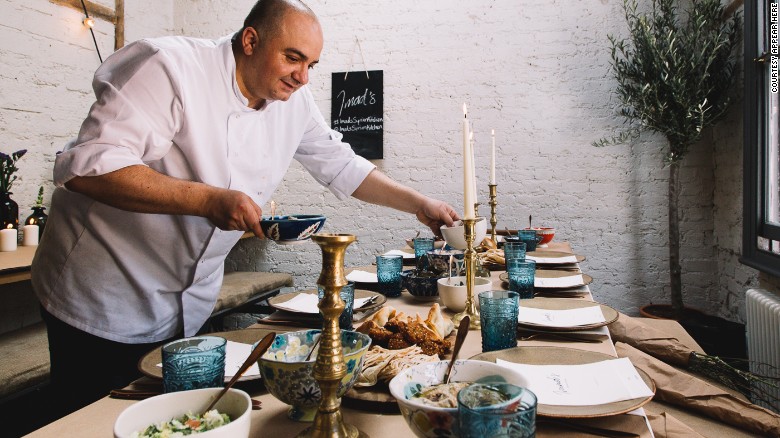 Alarnab told CNN: "(In Syria) we think it's a blessing to have food on our tables, so we have to save (it)."
Food bringing strangers together
While food itself is a blessing for Syrians, Alarnab says it is also used by many in his country to offer their friendship and generosity.
"Syrians … are some of the most generous people ever," he says.
"I visited most of the villages all over Syria and once I visited North Aleppo and we were asking (for) directions and instead of telling us where to go they asked us to come inside, eat their food and then one of them led us the way — without even knowing who we were."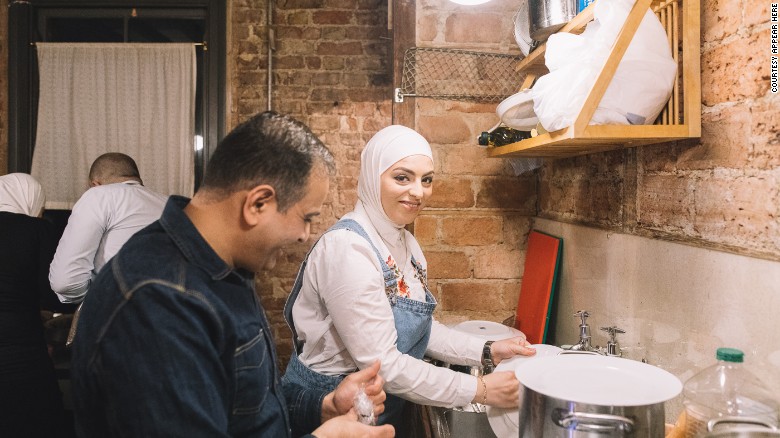 Many volunteered to help Imad with his pop up restaurant in London.
Showcasing Syrian generosity is one of his main goals in London.
After finishing the meal at his pop-up restaurant, many customers approached Alarnab to thank him.
"These thank yous are better than any payment I could ever receive," he says.
In the future, Alarnab says he wants to offer free meals to anyone who doesn't have the money to eat out at a more permanent base.
"I know not everyone has the money to spend on my meals, I want to make it available to everyone."