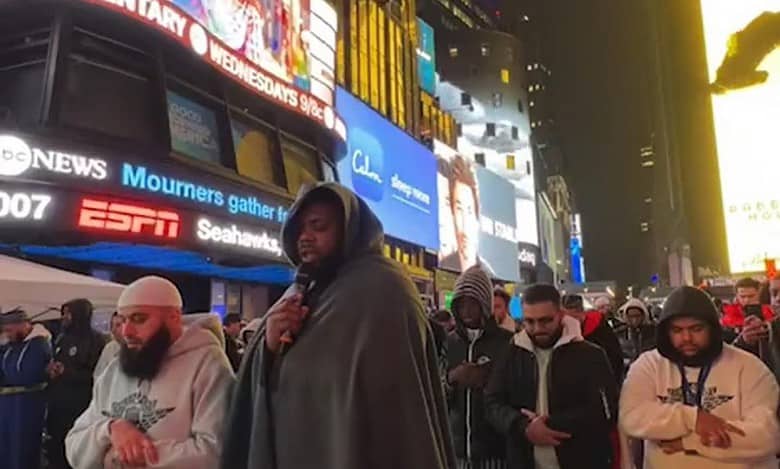 Muslims in New York held Taraweeh prayers at the Times Square for the second year in a row, organized and invited by Islamic influencer "SQ".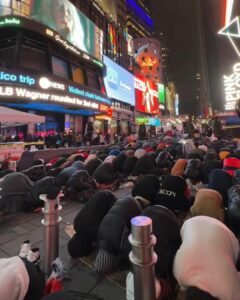 At sunset, the reciters of the Quran, Faisal Latif and Faraj Hassan, performed Maghrib prayer, and people began to break their fast with free Iftar meals.
Times Square was crowded with hundreds of worshipers. Verses from the Quran were displayed on screens as they reciting along with an English translation. The Muslim Giving Back organization said that it distributed more than 2,000 meals that included dates, water, pizza and gyro sandwiches, in partnership with food sponsors.
UAE English news site "The National" said the aim of the event was to help non-Muslim New Yorkers know how to celebrate Ramadan.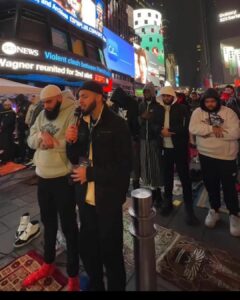 According to The National, several Muslims who held prayers in the square shared their experience and feelings.
Dahlia Tarek, who attended with family and friends, said: "I think the fact that it's happening in the [busiest] part of the city is an amazing thing… I hope it still keeps happening every year because it's really good and I hope the population keeps growing."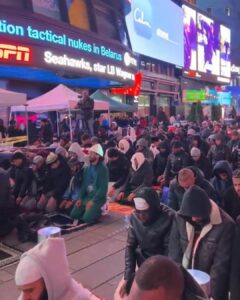 "Of course Islamophobia is on the rise and our religion is one of the most misunderstood religions in the world, yet we are the fastest-growing religion in the world," SQ said.
He added that the event, held under the bright neon lights and advertisements of New York's most famous square, was an opportunity for Muslims to come together and also help other people learn more about Islam.
Representatives from the Jamil Foundation for Children and Youth answered questions throughout and provided literature and learning materials, and distributed free English and Spanish translations of the Quran.
By the end of the night, two people took the shahada and converted to Islam after listening to the Quran recitations, The National said.