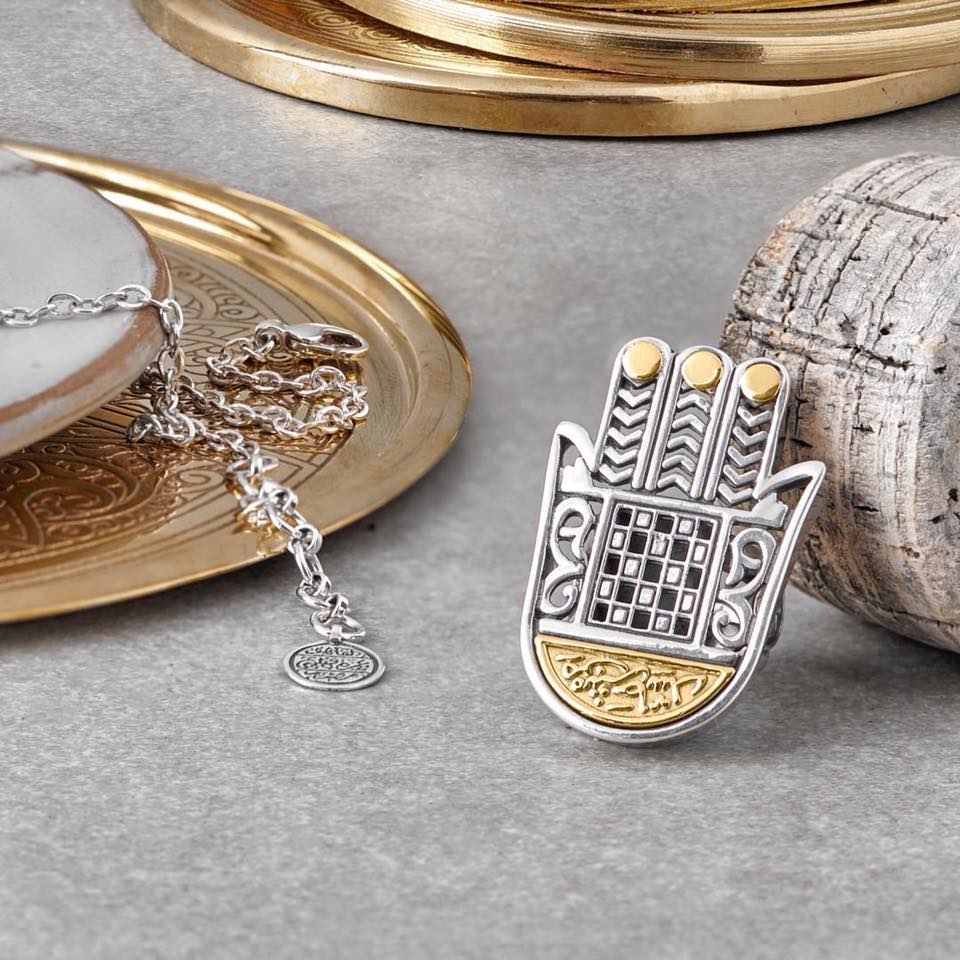 Azza Fahmy, renowned Egyptian Jewelry designer,  was selected by the National Museum of Ethnology 'Volkenkunde' in Netherlands to display three pieces of her collections in the winter exhibition entitled 'Jewelry: Made By, Worn By'.
It has opened its doors to jewelry enthusiasts in December 13, 2017 and will continue featuring statement pieces till June 3, 2018.
"The exhibition presents the largest ever display of jewelry in a Dutch museum. Almost 1000 items of jewelry by designers from all over the world to guarantee a feast for the eye," according to the exhibition website.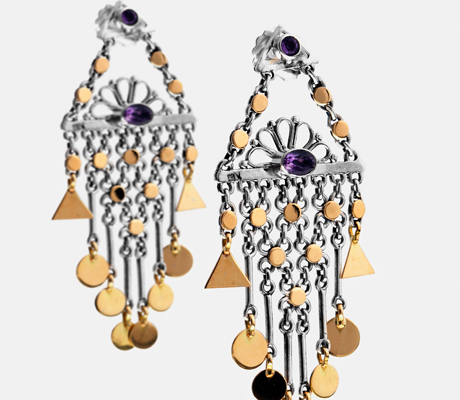 A pair of earrings, a piece from Azza Fahmy's Classic Collection, displayed at the Dutch Museum Volkenkunde in Netherlands.
The event also aims to "explore how people around the world adorn themselves and it will zoom in on the makers, the techniques they use, and the extraordinary stories of some of those who wear the jewelry."
Fahmy's contribution in the exhibition is embodied in three hand-crafted pieces from her Classic and Suma collections which are crafted of 18kt gold and sterling silver and charmed with coins and Arabic embroidered calligraphy of the famous lyrics sung by the legendary Umm Khulthoum.
The collection comprises Hand of Fatima ring, Suma bangle, and a pair of earrings.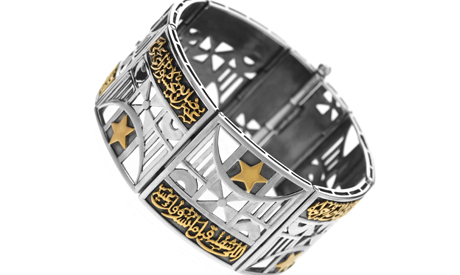 Suma bangle, one of Azza Fahmy's pieces from the Umm Khulthoum collection, displayed at the Dutch Museum Volkenkunde in Netherla.
"Azza Fahmy was chosen because the museum wanted to show contemporary Middle Eastern jewellery at its finest," Vanessa de Gruijter, assistant-curator of the jewelry exhibition, told Egyptian streets.
Fahmy launched her career in 1967 making one of the most iconic jewlery brands and independent purveyor of hand crafted jewelry in Egypt and the world, as her stores are spreading across the Middle East, United Kingdom, the US and Europe.
The contemporary designer enjoys a broad client base of celebrities and public figures, including Queen Rania  of Jordon, superstar Rihanna and famous Lebanese TV presenter Raya Abirached.
"I'm a bookworm, I read a lot, so culture and literature inspire me," Fahmy told the telegraph.
Fahmy said that in the beginning of her journey, she inscribed her favorite lines of poetry and proverbs, especially from the Arab world's classics, on jewelry so everyone can find something they relate to in her collections.
Earlier in January 2018, Fahmy announced that her company is launching a concept store in London's iconic Burlington Arcade in March, inking a deal for a five-year contract for a ground floor space in the Mayfair arcade.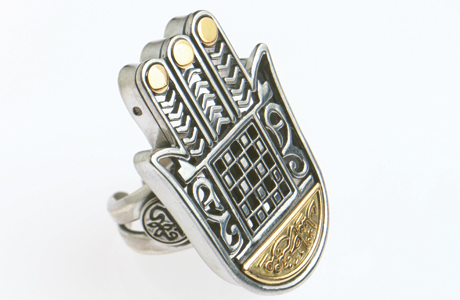 Hand of Fatima, one of Azza Fahmy's pieces, displayed at the Dutch Museum Volkenkunde in Netherlands.