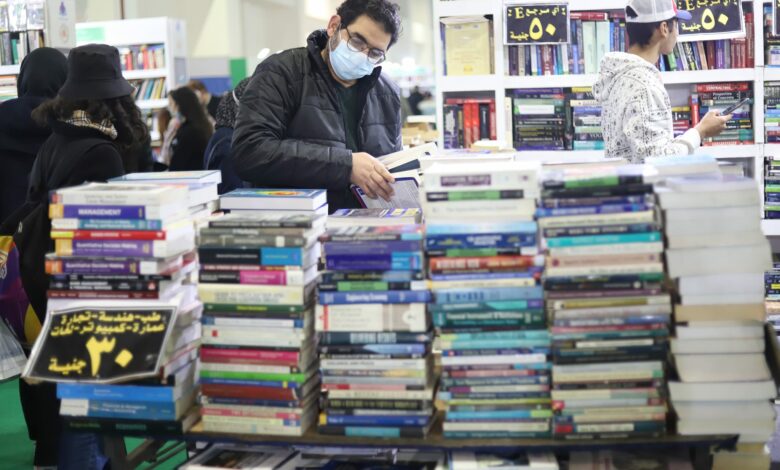 The Higher Committee of the Cairo International Book Fair, headed by Culture Minister Enas Abdel-Dayem, announced that the sixth day of its 53rd session of the fair, Tuesday, witnessed the entry of 64,000 visitors from different age and social groups.
The exhibition management also noted that the most popular age groups are young people and children, with a percentage of more than 75 percent.
The 53rd session returns with Cairo International Book Fair to its original date at the end of January of each year, after the last edition of the fair was held exceptionally during the month of June 2021 due to the global pandemic.
This year's session will witness an increase in the number of exhibition days to reach 13 consecutive days, to provide the visitors with the opportunity to visit the exhibition and support the publishing industry.
The fair is one of the largest gatherings of publishers in the world where 1,063 Egyptian, Arab and foreign publishers participate.
The activities of the day – according to a statement from the committee- included a group of artistic performances and various children's activities.
The Cairo International Book Fair is being held under the auspices of Egyptian President Abdel Fattah al-Sisi at Egypt International Exhibition Center (EIEC) in the Fifth Settlement.
The exhibition receives the public daily until February 7. It has been inaugurated on Thursday. The 53rd session of Cairo International Book Fair is held under the theme "Egypt's identity, culture and the question of future."
Greece is the guest of honor, and the writer Yahya Haqqi is a feature of the fair, and the writer Abdel-Tawab Youssef is the character of the children's book fair.
The events of the fair include a professional program aimed at advancing the development of the publishing industry and speeding it up with the times, and providing a professional and specialized platform for publishers and those working in the book industry that elevates the Arab cultural product.
The fair also provides an online sale of books on the exhibition's digital platform, and providing delivery services in cooperation with the Ministry of Communications represented by Egypt Post to any place inside Egypt.