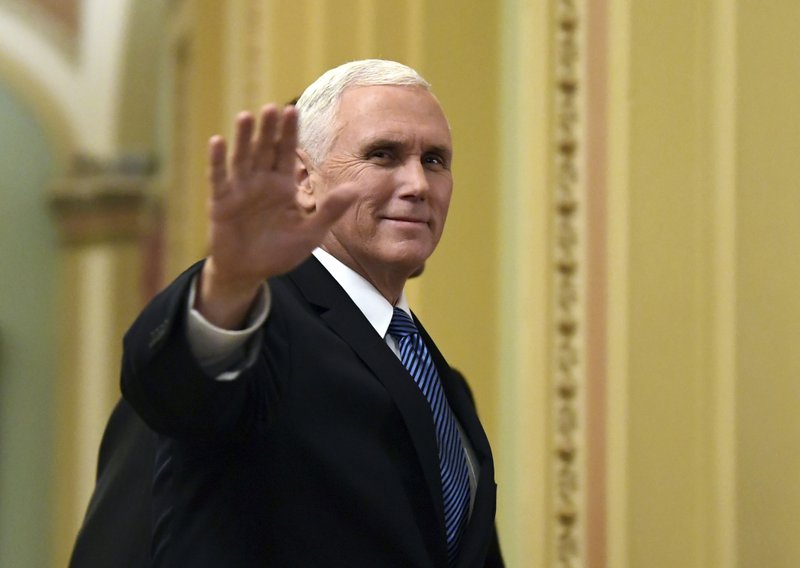 US Vice President Mike Pence said on Wednesday that Washington would soon announce new, tough sanctions to persuade North Korea to abandon its nuclear and missile programs, calling it the planet's "most tyrannical and oppressive regime."
Speaking in Tokyo on his way to the Winter Olympics in South Korea, Pence promised the United States and its allies, including Japan, would keep maximum pressure on Pyongyang until it took steps toward "complete, verifiable and irreversible denuclearisation."
"To that end, I'm announcing today the United States of America will soon unveil the toughest and most aggressive round of economic sanctions on North Korea ever. And we will continue to isolate North Korea until it abandons its nuclear and ballistic missile program once and for all," Pence said after meeting with Japan's Prime Minister Shinzo Abe.
Following talks that showcased the US-Japan security alliance, Abe said the two had agreed they could "never accept a nuclear-armed North Korea.
Pence reiterated Washington's stance that "all options are on the table" to deal with North Korea.
Pence's trip to South Korea from Thursday will coincide with a visit to the Games by North Korea's ceremonial leader, Kim Yong Nam, the most senior North Korean official to enter the South since the 1950-53 Korean War ended with a truce.
Pence had stopped short of ruling out the prospect of meeting senior North Korean officials but President Donald Trump has cast doubt on US negotiations with Pyongyang any time soon. The White House has also cautioned against reading too much into remarks Pence made en route to Japan.
Pence warned against allowing North Korea, which has sent a team to the Games, to use the Olympics for propaganda.
"We will not allow North Korea to hide behind the Olympic banner the reality that they enslave their people and threaten the wider region," he said.
For Friday's opening ceremony, Pence is bringing as his guest the father of Otto Warmbier, an American student who died in June last year after being imprisoned in North Korea for 17 months.
North Korea test-fired ballistic missiles over Japan last year, as well as a new type of intercontinental ballistic missile that climbed to an altitude of more than 4,000 km (2,485 miles) before splashing into the sea within Japan's exclusive economic zone.
Concern about North Korea is pushing Japan to update its missile defense. Besides extending the range and increasing the accuracy of its Patriot system, it will add two US-made ground-based Aegis radar stations and interceptors and plans to add to its arsenal air-fired cruise missiles that can strike North Korean missile sites.