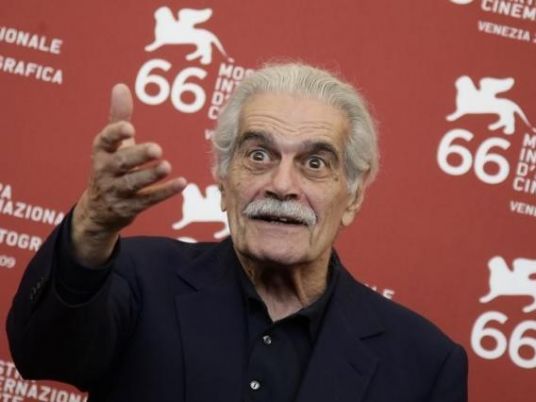 From legendary Egyptian actor Omar Sharif to Germany's ex-chancellor Helmut Schmidt and Nobel-winning author Gunter Grass, here are some of the notable figures who died in 2015:
– January –
– 3: Edward Brooke, the first popularly elected black US senator, aged 95.
– 11: Swedish "Dolce Vita" actress Anita Ekberg in hospital outside Rome aged 83.
– 23: Saudi Arabia's King Abdullah bin Abdulaziz aged around 90 after suffering from pneumonia.
– 25: Greek larger-than-life singer Demis Roussos, in Athens aged 68.
– 29: Australian "Thorn Birds" author, Colleen McCullough aged 77 in hospital off Australia's eastern coast.
– 31: Former German president Richard von Weizsaecker, a member of the Christian Democrat party, aged 94.
– February –
– 6: Algerian feminist novelist Assia Djebar, aged 78 in a hospital in Paris.
– 6: South African writer and outspoken critic of apartheid Andre Brink aged 79, on board a flight home from Belgium.
– 14: Italian Nutella owner and billionaire Michele Ferrero, aged 89.
– 14: Veteran French actor Louis Jourdan, star of "Gigi" at his Beverly Hills home in Los Angeles aged 93.
– 21: US jazz trumpeter Clark Terry, aged 94, in an Istanbul hospital.
– 27: "Star Trek's" Mr Spock, US actor Leonard Nimoy, aged 83 at his home in Los Angeles.
– 28: Yasar Kemal, one of Turkey's most celebrated writers, aged 92, in an Istanbul hospital.
– March –
– 12: British science-fantasy "Discworld" author Terry Pratchett aged 66 after a long battle with Alzheimer's disease.
– 20: Australia's former conservative prime minister Malcolm Fraser, after a short illness at the age of 84.
– 22: Singapore's first prime minister Lee Kuan Yew, aged 91 in hospital after suffering from pneumonia.
– 26: Swedish poet Tomas Transtroemer, who won the 2011 Nobel Prize for Literature, aged 83.
– April –
– 2: Portuguese cinema legend Manoel de Oliveira, aged 106.
– 10: Former Australian cricket captain and commentator Richie Benaud, aged 84 in hospital after suffering from skin cancer.
– 13: Germany's Nobel-winning author, Gunter Grass aged 87, in hospital in the northern city of Luebeck.
– 13: Uruguayan leftist writer Eduardo Galeano, aged 74 in a Montevideo hospital after suffering from lung cancer.
– 14: American soul icon Percy Sledge aged 74 in the American state of Louisiana, of liver cancer.
– May –
– 2: British crime writer Ruth Rendell, of "Chief Inspector Wexford" fame, aged 85 in hospital after suffering a stroke.
– 14: B.B. King, the face of American blues worldwide, aged 89 in Las Vegas.
– 30: Beau Biden, the eldest son of US Vice President Joe Biden and the former attorney general of Delaware, of brain cancer aged 46.
– June –
– 5: Iraq's Tareq Aziz, the voice of Saddam Hussein's regime, in an Iraqi hospital aged 79 after many years of poor health as a convicted prisoner.
– 7: British Dracula actor Christopher Lee, aged 93, in hospital in London.
– 11: US saxophonist and composer Ornette Coleman in New York aged 85.
– 17: Turkey's former president and prime minister Suleyman Demirel, in an Ankara hospital aged 90 of heart failure.
– 22: American "Titanic" music composer James Horner in a plane crash in California aged 61.
– 25: British actor Patrick Macnee, star of 1960s British spy series "The Avengers" at his home in California, aged 93.
– 26: Russia's former prime minister, foreign minister and master spy Yevgeny Primakov aged 85.
– July –
– 1: Nicholas Winton, known as the English Schindler for saving hundreds of Jewish children from the Nazis before World War II, aged 106, near London.
– 9: Saudi Arabia's Prince Saud al-Faisal, born in 1940 and the world's longest serving foreign minister, in the United States.
– 10: Egyptian-born "Doctor Zhivago" film legend Omar Sharif, of a heart attack in a Cairo hospital aged 83.
– 11: Japan's Nintendo's chief executive Satoru Iwata of cancer aged 55.
– 26: Bobbi Kristina Brown, the only child of US pop legend Whitney Houston and Bobby Brown, aged 22, six months after she was found unconscious in a bathtub in her Atlanta, Georgia, home.
– August –
– 15: Pioneering US civil rights activist Julian Bond, aged 75 in Fort Walton Beach, Florida.
– 19: Senegal's master drummer Doudou Ndiaye Rose aged 85 in a Dakar hospital.
– 22: The former "first lady" of Cambodia's murderous Khmer Rouge regime Ieng Thirith aged 83 in a former Khmer stronghold on the border with Thailand
– 30: Renowned British neurologist and writer Oliver Sacks aged 82 in New York of cancer.
– 30: American horror film master Wes Craven aged 76 at his Los Angeles home of brain cancer.
– September –
– 19: Best-selling British-American romance novelist Jackie Collins of breast cancer in California aged 77.
– 22: New York Yankees baseball icon Yogi Berra aged 90.
– 29: Phil Woods, a prolific US saxophonist aged 83.
– October –
– 5: Swedish crime writer Henning Mankell, 67, of detective Kurt Wallander fame, in Gothenburg of cancer.
– 14: Benin's former military ruler and civilian president Mathieu Kerekou, aged 82.
– 24: "How Green Was My Valley" Irish actress Maureen O'Hara, aged 95, at home in Boise, Idaho.
– November –
– 3: Iraqi Ahmed Chalabi, a key lobbyist for the US-led invasion of Iraq who was blamed for providing false intelligence on weapons of mass destruction, of a heart attack aged 71.
– 10: Former West German chancellor, master of "realpolitik" Helmut Schmidt, aged 96.
– 18: New Zealand's rugby legend Jonah Lomu, aged 40, after suffering from kidney disease.
– December –
– 15: Licio Gelli, a masonic grand master implicated in some of the darkest chapters of Italy's post-war history aged 96.
– 19: Kurt Masur, the conductor who used music to ease German reunification and comfort New York after September 11, aged 88.