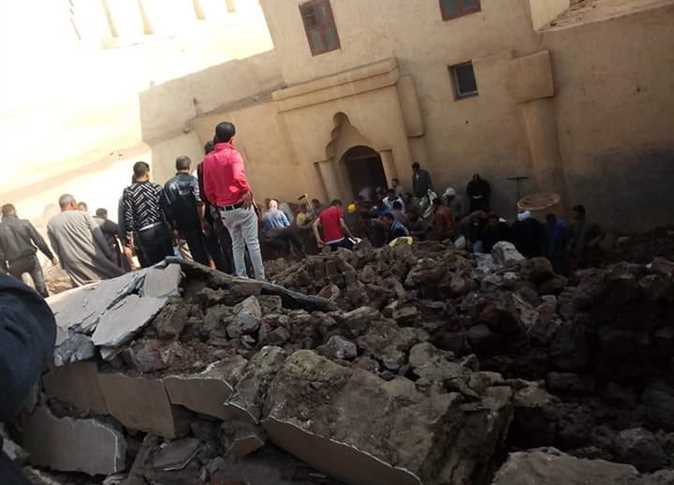 Three people were killed and four others injured after a wall collapsed in the Monastery of Saint Fana, southwest of Minya.
Security and civil protection forces rushed to the scene.
The preliminary investigation found that part of the wall of the archaeological church had collapsed during Sunday Mass.
A security statement said that the incident resulted in the death of two children, and a woman about 50-years-old.
Four other people were injured, including a six-year-old girl.
A delegation from the Antiquities Ministry, comprised of the head of the Islamic, Coptic and Jewish Antiquities Sector Gamal Mostafa, and the head of the Projects Sector at the Ministry Waad-Allah Abul-Ela, headed an archaeological engineering committee to Mallawi to follow up the situation.
The committee is scheduled to conduct a comprehensive inspection of the site and intervene immediately to prevent any risks and take all urgent measures to protect the monastery's buildings and its surrounding area.
The Ministry referred the incident to the Public Prosecution. It expressed its deep regret over the incident and condolences towards the families of the victims.
A senior official from the Antiquities of Central Egypt Sector said the ministry pays great attention to its Coptic heritage, as many Coptic monasteries and churches were recently restored.
The ministry said that the Islamic, Coptic and Jewish Antiquities Sector had addressed the Coptic Church and the Bishop of Mallawi several times over the past year, regarding the measures to be taken for the monastery's restoration and to provide the necessary funds.
The monastery of Saint Fana is an archaeological site located in Mallawi city, about 300 km south of Cairo. It is known as the Monastery of the Cross, due to the presence of many beautifully decorated crosses inside its church.
It is one of the first monasteries in Upper Egypt, and was established at the start of the first monastic movement, by Saint Fana in the fourth century AD.
Edited translation from Al-Masry Al-Youm