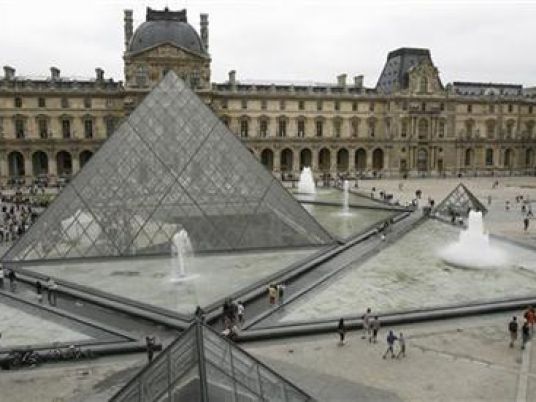 Museums in the world's most visited city are moving to ban the popular extendable rods because of the danger they pose to both visitors and the priceless artworks on display.
Inside the famed Palace of Versailles just outside the French capital, guards have begun telling visitors to put away the telescopic poles that allow users to take a smartphone picture of themselves at a distance.
A formal ban will be introduced within a few weeks, soon to be followed by similar steps at other cultural landmarks in Paris.
The management of the Louvre – the world's most visited museum – is watching with increasing wariness the burgeoning use of the rods being waved around within centimetres of invaluable paintings.
There's no ban there yet, but "their use must respect the rules," which include not pointing objects at the paintings or sculptures, a spokeswoman said.
The Pompidou Centre, which houses modern art exhibitions, is "heading towards a ban but the decision has not yet been made," its management said.
Already several other big museums in the world have this year started banning the extending rods, including the Smithsonian national museums in Washington, the MOMA in New York, and the National Gallery of Australia in Canberra.
The measures were taken as use of the cheap, telescoping rods, some of which can extend to 1.5 metres in length, becomes a ubiquitous and worldwide trend. It is not unusual to see tour groups waving a forest of the aluminium poles holding smartphones aloft in some high-density tourist sites.
'These things are dangerous'
In Paris, a ban on them inside museums would have a significant impact. The City of Light is the most visited city in the world and is a prime destination for art and history fans. Together, the Louvre, Versailles, the Pompidou Centre and the Musée d'Orsay attract more than 20 million visitors per year.
Safety – both for other visitors in often crowded spaces and for fragile paintings, sculptures and palace furnishings – is cited as the reason for the move against the selfie sticks.
Many tourists seem understanding of the need for restrictions on the rods.
Alyssa Pasqua, an American visitor from Hawaii, said she uses a selfie stick but would not mind a ban inside museums — "because I feel like sometimes these things are dangerous… You can hit someone with it, because sometimes I'm accidentally like 'oh my God!'."
But Ezad Asri, a tourist from Malaysia, insisted he wanted to be able to maximise his precious time in Paris's museums.
"I want to take the picture of the stuff inside the museum to take to our country, to my country, Malaysia, to show to my people what's inside the museum," he said.
For museum managers, finding a balance between people's desire to photograph their visit – which also generates publicity on social networks – and to ensure safety and optimum foot-traffic flow is difficult.
Paris's Musee d'Orsay, for instance, prohibits all photography inside. Many other museums permit non-flash snaps as long as no tripods or monopods are used. Almost all refuse entry with unwieldy objects such as non-collapsible umbrellas, baby carriages and bulky backpacks.
France's Culture Ministry has published a non-binding charter that recognises that accommodating shutterbug museum visitors is "sometimes problematic" but makes no mention of selfie sticks.