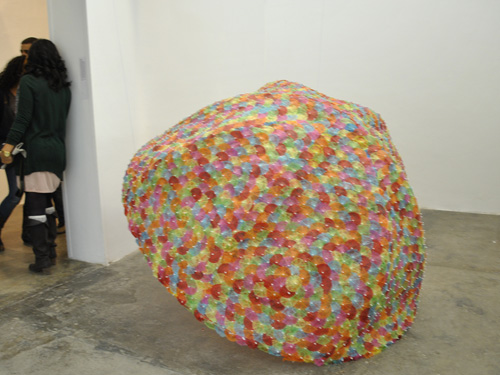 "In art, the concept of parallelism is very valuable," says Shady El Noshokaty, the art professor at the American University in Cairo who curated the "Parallel Visions" exhibition currently showing at Darb 1718.
According to Noshokaty, parallelism can represent the different visions produced by artists based on the same idea; in terms of the audience, it can also represent the art of experiencing an exhibit as a parallel reality, one which opens up the relationship between subject and object.
"Art is neither reality, nor a mirror, but simply a parallel vision," he says.
The "Parallel Visions" exhibition features the work of 27 senior art students from AUC and is a compilation of pieces selected from various art projects undertaken over the past year and a half.
Noshokaty selected the artists based on their artistic language and conceptual analysis of their chosen subject material, rather than a particular theme. Several months of extensive research went into each individual project.
As a result, the exhibit is impressive and diverse. Each work is remarkably layered, both conceptually and texturally. Often in other exhibits around Cairo, such depth is only alluded to in the descriptive plaques that accompany the artwork. However, at "Parallel Visions," the artwork delivers.
In general, there is quite a psychedelic feel to many of the works, encouraging viewers to revisit them several times.
On the ground floor Marwan al-Gamal presented "Delirious Voyages," a series of colorfully rich paintings and drawings that interweave distorted, abstracted images, shapes and forms into one another. What initially looks like a face, for instance, may actually be a flower or ripples in a pond, altering the meanings and moods viewers draw from the work.
In his artist statement, Gamal writes that he seeks to "explore the contrast between the organic and the involuntary, the outside world, and the mind."
He adds that the idea of his work is not to simply present beauty to the viewer, but rather, to portray its shortcomings and role in the creation of "unbeauty," an idea that Nada Barak also engages with by focusing on the effects of plastic surgery in her paintings of maimed female bodies on display on the same floor.
On the gallery's second floor, a number of audio-visual installations play while a strobe light flashes on the text of Islam Shabana's work, which reads: "Unable to love; if you dream in a city that never wakes up." Meanwhile, the video of artist Sama Waly bobbing in and out of water gasping for air — looking as if she is trying to understand what it feels like to drown — blares in the background.
I have to admit that on several occasions, I abruptly looked over my shoulder.
Another theme that some artists engaged with was, of course, the ongoing revolution. In "Dictator's Suit," Sherifa Roushdy presented photographic prints of a young woman standing confidently in a suit, only her garment is decorated with black and white patterns inspired by the symbols of many authoritarian regimes.
Nesma al-Abd offers a very interesting take on the way the ongoing street movement and confrontations have affected people's lives. In her animated video, she shows an activist in a gas mask, sitting amongst peaceful individuals who are studying, meeting friends, or lying by a pool. The activist looks out of place, and ultimately dies in the end when he takes off the mask.
Hadir Hammam offered a very interesting and aesthetically pleasing exhibit that could be interpreted in multiple ways. Her installation, entitled the "Importance of Space in the Operation of Mental Power," consists of several large, glass sheets dangling in front of one another from the gallery's ceiling. Each glass sheet is imprinted with a different idea or image — with beautiful fluorescent pinks and grays — creating a composite image when looked at collectively.
From one side to the other, the different sheets show: an image of a human brain; a portrait of a human; a roughly outlined map of Tahrir Square; a detailed street map of the square; and then a map of a new, redeveloped Tahrir.
In her words, this is an attempt to separate and portray the various processes and stages of "change," as it transforms from a thought into tangible reality. Through this, one sees how change is the product of a series of both internal and external factors, and not an isolated, overly complicated event, which is how the overall composite image of the various sheets appear when looked through from either end.
Hammam's piece very beautifully portrays how large-scale change can often be achieved through various small changes that can take place both in the mind and in the external world.
Overall, the exhibit is curated very well, as it is lovely to walk through, and the individual works are beautifully executed, not only visually, but also conceptually. Though relatively cliché, "thought-provoking" is the phrase that kept coming to mind during the visit.
Parallel Visions is showing at Darb 1718 until 1 April. Qasr al-Shamaa Street, Al-Fakhareen, Old Cairo.