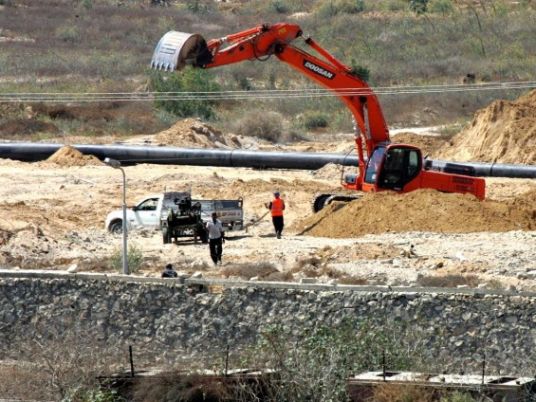 Palestinian officials in the Gaza Strip have warned of the dangers of an Egyptian plan to flood the Egypt-Gaza border with seawater in an effort to destroy cross-border tunnel activity.
According to Mazen al-Banna, vice-president of Gaza's Water Authority, the move poses a "serious threat to the national security of both Egypt and Palestine because they both share the same aquifer."
Speaking at a joint press conference with officials from the Water Authority and other agencies, he said: "Egypt has begun to dig deep water reservoirs and laid pipes underground containing high-salinity seawater with a view to destroying the cross-border tunnels."
This, al-Banna went on to warn, "could lead to the destruction of the aquifer."
"Pumping sea water into the reservoirs, which could leak into the aquifer, will be devastating for both sides' economic, food and environmental security," he said.
Last week, reports emerged that the Egyptian military had begun pumping water from the Mediterranean Sea into the reservoirs with a view to destroying the cross-border tunnels that the blockaded Gaza Strip relies on to import desperately-needed commodities.
"About a week ago, the Egyptian army began using heavy equipment to lay massive water pipes – up to 60-centimeters in diameter – along the Egypt-Gaza border," a Palestinian security source told Anadolu Agency earlier.
"The aim of laying these enormous pipes is to inundate the tunnels with water from the Mediterranean without having to find their exact location," said the source, who insisted on anonymity.
Such a move, the source added, "will very quickly lead to the collapse of the tunnels."
The Water Authority's al-Banna, for his part, has called on the UN – along with local and international environmental organizations – to intervene to halt the project, which he described as "catastrophic".
Subject to an airtight blockade by both Israel and Egypt since 2007, the Gaza Strip – home to some 1.9 million people – has come to rely on the border tunnels for the import of food, fuel and medicine.
Since Egyptian President Mohamed Morsi was ousted in a 2013 military coup, the Egyptian authorities have ratcheted up their crackdown on Gaza's cross-border tunnel system, which, Egypt claims, is being used to support militant activity in the Sinai Peninsula.
Last year, the Egyptian authorities set up a "buffer zone" in the North Sinai city of Rafah following a spate of attacks on army and security forces.