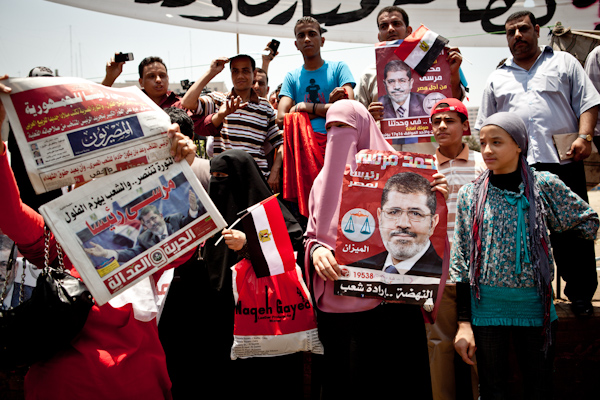 A Palestinian man from the Gaza Strip named his newborn son Mohamed Morsy. The baby was born on the same day that the Muslim Brotherhood's Mohamed Morsy was declared winner of Egypt's presidential election.
Young Morsy's 27-year-old father Ahmed al-Dairi said he named his son after Egypt's president-elect as an expression of his joy at his success in the presidential election. He pointed out that Palestinians both love and respect the new Egyptian president.
Dairi told Al-Masry Al-Youm, "My wife and I agreed to name our newborn Mohamed Morsy in celebration of his victory, and the victory of the Freedom and Justice Party which represents the Muslim Brotherhood."
Dairi, who graduated today from the Department of Journalism and Media in Gaza, said, "My wife was admitted to the hospital prior to the results announcement, and Morsy was declared the winner as she gave birth."
Dairi, who lives in a lower class neighborhood in Gaza City, said that everyone, especially his family, welcomed the name choice and that they gave out candy to celebrate. He went on to say that he wishes success for the Egyptian president in the "very difficult" mission ahead of him.
Palestinians have in the past named their children after famous political leaders such as former US President Bill Clinton, Palestinian President Mahmoud Abbas and Hamas Prime Minister Ismail Haniyeh.
Edited Translation from Al-Masry Al-Youm