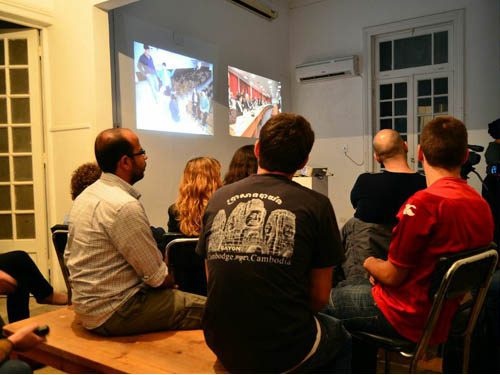 "Battles of Images" was a series of talks centered around an examination of photojournalism and its links to aid held this month at the Contemporary Image Collective. The series' ability to attract full audiences and attendees who were eager to get involved in discussions suggested that the topics it addressed were on people's minds.
The presentations tended to be characterized — often to their benefit — by anecdotal self-reflection. But the final talk, by the series' curator, Palestinian artist Shuruq Harb, was the most personal as well as the briefest.
Photographer Thomas Hartwell had shown Harb some photos a few weeks earlier that he had taken in 1998 in Palestine. He had been commissioned by the World Bank to take the first series of photographs of the Palestinian Authority. That time, after the Oslo Accords, was a period of hope, Hartwell said – there was a notion that things would get better. Harb was 18 that year and had met Hartwell in Ramallah when he came to photograph the rehearsals of a school play she and some friends were organizing.
The small selection Harb showed seemed mostly to be everyday scenes — a boy selling fish by the side of the road, a car outside the Palestinian Airline office, a steamroller creating a new road, police training, teenagers discussing their play in an auditorium. The way the images were shown in the talk, without captions, the details of what was being photographed weren't clear exactly. The images were presented like snaphots — presumably quite different from how the Word Bank used them.
Harb said she created "the excuse of a lecture to create a critical context for the photographs," but the result fit neatly with questions central to "Battles of Images" about what economy generates news images, and what other kinds of economies are generated by them.
Harb said that at 18 she was confused "partly because of my hormones" and partly because the Oslo period itself was very confusing for Palestinians. Oslo introduced the visual elements of a state (police, an airline, advertisements, a mobile phone network, a TV station, new roads) while undermining already existing structures. An example of the confusion was how Palestinian police were at first mistaken for Israeli police, before becoming a buffer zone between protesters and Israelis.
Before the authoritative organization that Oslo brought, Harb said, people just took care of each other — "There were unwritten rules." At the same time Hartwell was taking his photos, a brain drain into institutions was starting, a move away from collectives and universities toward NGOs and the PA. Harb herself did a stint working for the PA foreign office. After Oslo, Palestinians' freedom of movement was restricted. During that period of hope and confusion, Harb suggested, it had not quite sunk in that Gaza and the West Bank were all they would be getting.
The school play, for her, was a moment just before all that started happening — before she and her friends dispersed and became co-opted. The play "was the first time we independently decided to do something" — it was not initiated or funded by the school — and coincided with the period of deceptive hope documented in Hartwell's photographs.
This fit with questions about aid that came up again and again throughout "Battles of Images." Aid, especially humanitarian aid dispensed by NGOs — often generated through the publication of images of suffering or hope — creates an expectation that things will get better, but very often there is no real change. The structures of aid, it seems, tend to support the status quo.
Harb showed a video clip from Al Jazeera discussing how since the Oslo Accords aid to Palestinians has protected Israel from the consequences of the occupation: Palestinian schools, roads and hospitals are funded by international aid, and when they are bombed, the same donors pay for their reconstruction.
Harb showed an image of an Israeli highway zooming over a flyover and into a tunnel in the West Bank as an illustration of Eyal Weizman's idea of the politics of verticality "severing the territory into different, discontinuous layers."
"The thing that attracted me to these photos is that they were the beginning of selling a normal Palestine, that there was a potential for a state," said Harb. Through triggering personal memories, like the fact that at that time she was "always struggling with [Yassir] Arafat's image," she wondered if the photos seen retrospectively would reveal the problems amid the optimism. Often you are not able to recognize what is happening when it occurs.
Rather than aiming to contribute to the illusion of a state, Hartwell, who spoke briefly after Harb's talk, said that his interest was in long-term relationships and photographing everyday life rather than images of conflict that international audiences associate with Palestine. "People have to live. It always looks worse on television," he said. He also mentioned that he never sells his copyright, so if he considers his images misused, he can always try to counter that by presenting them in a more accurate light.
Harb has combined other people's images with autobiographical anecdotes before, and her projects tend to be presented in an entertaining rather than didactic way. In a previous show at CIC, she recounted the genesis of her artist's book "The Keeper" (2011) about the distribution of images in Ramallah through a young man called Mustafa, who downloads photographs from the internet to print and sell them. In a short video accompanying her project "All the Names," Ramallah's inhabitants share their confusion at the renaming of the city's streets by the municipality, a cosmetic move apparently aimed at visitors.
At the end of her "Battles of Images" talk, Harb wondered whether perhaps Egypt is in a reverse situation to that lurking barely visible in Hartwell's photographs. As people are now questioning the structure of the state here, there is a need for collectivity and self-organization. But such transitional times, she suggested, are periods of limbo. However many images there are, it can be difficult to see what's going on.